There's nothing quite like the affection and loyalty that a dog can provide. It's been over two centuries since King Frederick of Prussia supposedly said, "the only, absolute and best friend that a man has, in this selfish world, the only one that will not betray or deny him, is his Dog." That's "dogs are man's best friend" in modern lingo. And why not? Studies suggest that owning a pet dog has many benefits, including:
Of course, when you're operating on zero sleep because your beloved pet spent the better part of the night barking and howling, you may start wondering if the benefits still apply to you. When getting a noise complaint from your neighbor is becoming a common occurrence that your stress level is through the roof, what can you do?
Your tiny pup may be adorable, but small dogs can have barks bigger than personality. Excessive barking can challenge many pet owners (and their housemates and neighbors!) But annoying barking does not need to end your relationship with your tail-wagging bestie. Your pet can learn to bark only when necessary with the help of a good bark collar.
eXuby Tiny Shock Collar World's Smallest Shock Collar
This petite rendition of an obedience aid had a bright color and an adorable name. eXuby's cute name takes the sting out of incorrigible behavior patterns.
Smallest Dog Shock Collar in the World – Put an end to unwanted behaviors with the eXuby shock collar, our smallest and most effective model available. Use it to correct behavior with your toy breed or puppy without dragging them down.
Correct Your Small Dogs Bad Behaviors Instantly – Just because theyre tiny, doesnt mean they cant have bad habits. With this tiny shock collar, stop your small dogs biting, barking, scratching, and other habits at just the tap of a button.
Not Just Functional, but Cute – Most tiny shock collars are ugly, but this attractive collar comes with blue and pink interchangeable plates for personalization. Even the remote is bright and cheery so it wont be a blemish in your home.
Switch Between Shock, Vibration, or Sound – Shocking can be too intense for some dogs, which is why this collar also comes with sound and vibration modes. Switch between nine levels of intensity to find the setting right for your pup.
Although some customers do use this product for Cats and at times is effective, this product is NOT intended to be used on Cats. Also, this is NOT an Automatic Bark Collar. It will NOT correct your dog automatically and will require a command from the remote.
eXuby produces these cute training collars for the Divas and Divos with a biting attitude. Aside from its happy appearance, this is an effective dog correction tool.
eXuby even made the electrodes hardly noticeable that even the most sensitive dog won't object to wearing the collar. They're equipped with a low start setting to gradually introduce your dog to reprisals and allow trainers to modify dog behavior safely and effectively.
Designed with shock, vibration, and sound training settings, trainers can adjust the nine intensity levels according to need. As a behavior adjustment method, this collar is suitable for teacup, micro, and mini breeds who need assistance in learning acceptable behavior. However, don't use them for cat behavior modification.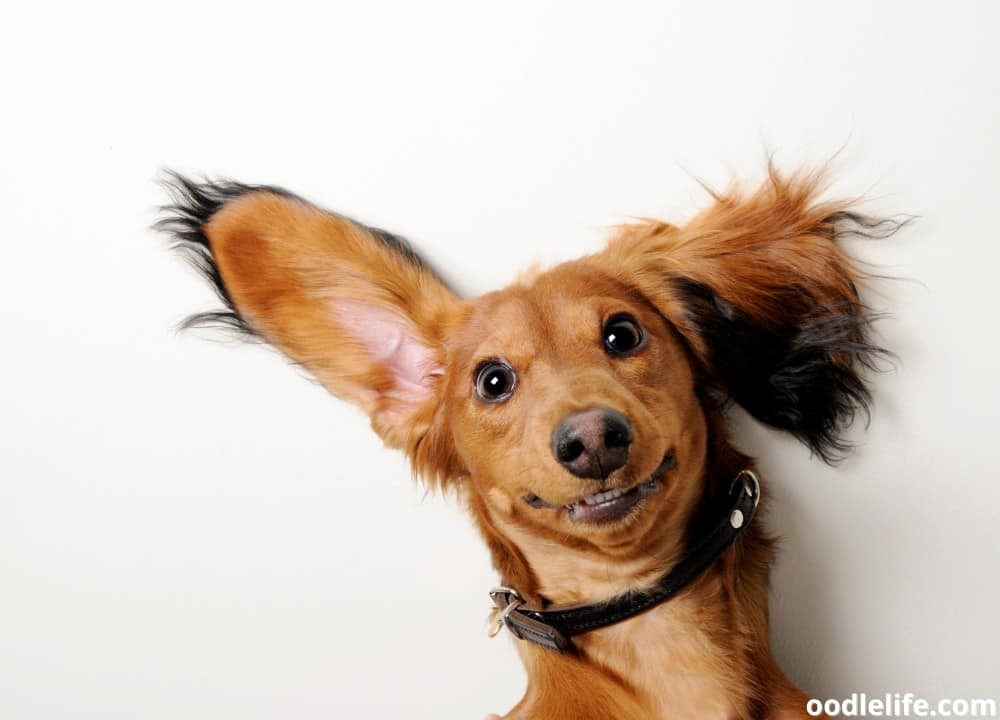 Types of Training Collars
When you think of training collars, you might automatically think of shock collars. However, these are not the only types of training collars that you can purchase.
Some people believe that shock collars are unethical and steer clear of them. This is one of the reasons why they're being pulled off of the shelves. However, static shocks are still a reasonable method of training bad behaviors from your dog. It also will not hurt your dog when used appropriately.
Other types of training collars include vibration collars, which deliver a vibration to your dog's neck rather than a shock. These are considered more humane than static shocks and less dangerous.
A light collar is another option that shines a light to distract your dog whenever they misbehave. Additionally, some training collars come with an ultrasonic beep option that shocks your dog's ears rather than their skin. This is also used to distract your dog from bad behavior. This training method is known as redirection.
The final option is a collar that sprays water or citronella onto your dog in a quick burst. This will surprise them enough to hopefully stop the behavior at that time. Every time they bark or do something they are not supposed to do, they will be sprayed.
The only issue with spray collars is that plenty of small dogs love water, and therefore the spray is not negative enough to allow for any lasting effects.
For this reason, we haven't included any spray collars on our list above, but we did create a list of the best Citronella bark collars. It's worth noting in case your dog doesn't like being sprayed and you think it will be an effective training method.
Enrivik Small Size Dog Training Collar Best for Tiny Dogs
Mighty dogs come in all sizes, and sometimes those tiny bundles of cuteness come complete with an aggressive attitude.
For Even The Smallest Pets – While other training collars say "fits small dogs" but end up being huge for them. The Envirik remote collar has an adjustable collar (8 – 26″) – making it suitable for all dogs over 5 lbs including chihuahuas and bichons
Dog Training Guide – Each order comes with a full user manual including how to teach basic commands, how to use the remote collar in a safe and efficient manner and how to effectively use positive reinforcement for life-long behavior change
Positive Behavior Reinforcement – A complete dog training system with sound and vibration modes included. Reinforces positive habits and long lasting behavior change. Perfect for outdoor or indoor use. Increased range of 1000 feet
Minimalist Durable Design – The reinforced waterproof remote collar stands up to all doggy activities. Lightweight water resistant design, so you can take it on nighttime walks as well. Thinner strap so even smaller dogs find it comfortable
Only Need To Charge Once Per Week – Long lasting lithium ion battery means with normal use, you only need to charge the collar once a week. Plus the remote fits easily in your pocket so you can take it with you. Comes with battery saving standby mode
There is a reason why consumers buy this powerful training device with long-lasting battery power: it performs. The battery power pack allows dog trainers the convenience of only recharging once weekly and won't interrupt training sessions.
Small dogs with neck size 8'' (up to 25" necks) benefit from this obedience delivery method. With three control methods, sound, shock, and vibration, all in a waterproof housing, this system is ideal for smaller breeds like Terriers, Chihuahuas, and Yorkies.
The collar system isn't bulky and has a 1000-foot long range, and most dogs respond well to the sound and vibration training. Stubborn dogs may benefit from the shock setting.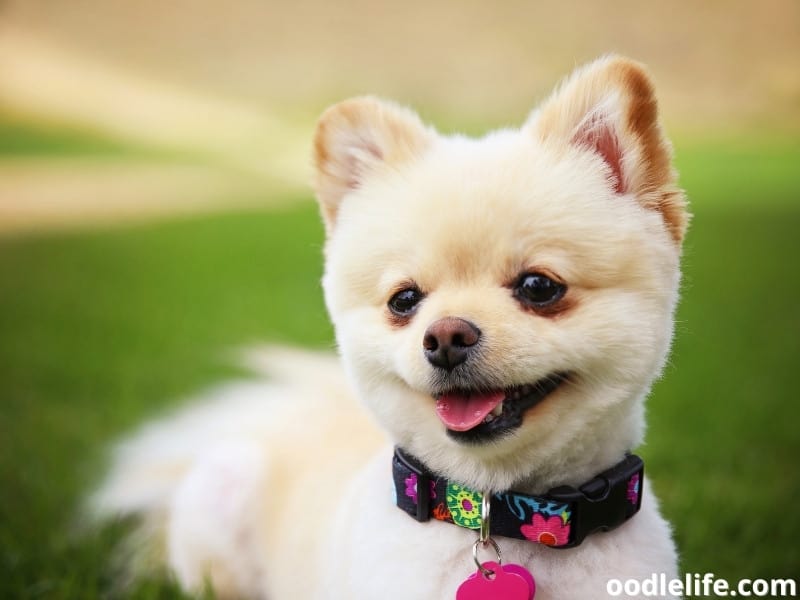 FAQ
What is the best shock collar for little dogs?
For small to medium dogs from 12 pounds and up. Both the iQ Mini and iQ Plus are fantastic for small dogs. The Mini can fit dogs as small as 7 pounds while the Plus is better for dogs 10 pounds and up. They also both come with 100 levels of static stimulation and a pager vibration.
Can small dogs wear shock collars?
Small dogs may be unable to withstand the weight or bulk of a shock collar, and they are susceptible to injury with use.
What can I use instead of a shock collar?
Our Picks For The Top
The Best.
Pet Resolve Long-Haired Dog Teaching Shock Collar.
PATPET Vibration Long-Lasting Shock Collar.
Pet Spy Behavioral Swimming Shock Collar.
SportDOG Submersible Buckle Shock Collar.
PetSafe Adjustable Boost Button Shock Collar.
Petrainer Rainproof Wireless Shock Collar.