Can Dogs Eat Nylabones?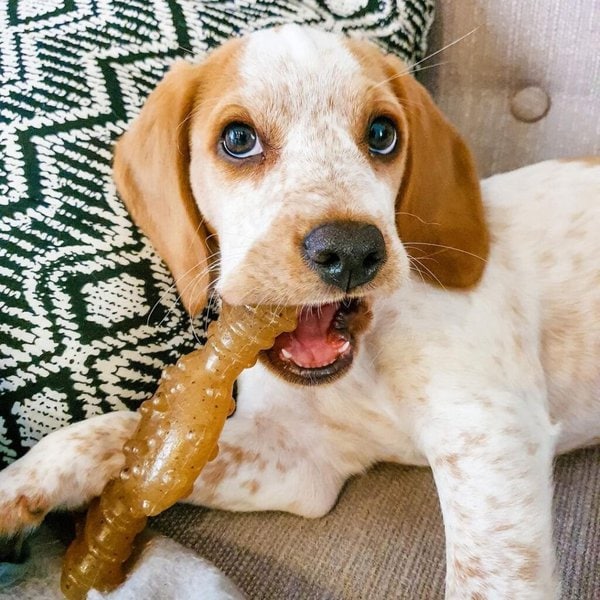 from Instagram:
Dogs can safely chew on Nylabones, but consuming this chew toy is highly dangerous and can be fatal for pooches.
Nylabones is a brand of chew toys for dogs typically made of various natural or artificial materials and molded into bone-shaped objects – just as the name suggests.
The non-edible chew Nylabones are typically manufactured with either plastic, rubber, or nylon. And although they are typically manufactured with indigestible material, these non-edible Nylabones are generally considered safe for dogs to chew on, provided they aren't later ingested.
Edible chew Nylabones, on the other hand, are usually produced from different proteins, starches, and flavorings.
And while they are generally considered safe for dogs to chew on and even ingest, it is important to err on the side of caution when giving these edible chew toys to pooches.
Dog chew variety pack is proudly made in the USA
Chew toys help clean teeth and reduce plaque and tartar buildup
Long-lasting dog chew toys keep dogs busy and entertained
When Should I Replace My Dog's Nylabone?
If you are wondering when to throw away Nylabones, you should replace your dog's non-edible Nylabone chew when the knuckle ends wear down or if it becomes too small to chew safely (if it is so small that your pup could swallow it, throw it out).
Frequently inspect any chew before giving it to your dog to make sure it's whole and intact, with no missing pieces. Replace a Nylabone when knuckle ends are worn down, or if it becomes too small to chew safely. Nylabone Chews and Toys should not be boiled or placed in a dishwasher, washing machine, convection, or microwave oven.
How Do I Know if a Toy Is Dangerous for My Dog to Eat?
Nylabone also make edible chews that look quite similar but can be digested and are made of food material, and therefore, do not present a danger if swallowed. Other toys can look similar – such as rawhide chews and animal bones – so it is important to work out what type of toy your dog has eaten. Read the information on the toy packaging before you give your dog or puppy a toy to ensure it is safe for them and you know of any risks.
Any plastic – or fabric-based toy will be non-edible and not able to be digested. This makes it potentially dangerous if swallowed. It is important that if you think this has happened you contact a veterinarian, even if your dog is not showing any signs of illness, as this could develop into a life-threatening condition.
Are Nylabones safe for dogs to eat?
Good and nasty things have been said about dog chew toys and you are probably wondering, 'Do I even need them?
Maybe you are hearing about them for the first time or you bought one for your pooch before and the experience left you doubting their value.
Whichever the case, I bet you would not want to miss a chance to learn of a brand that could possibly live up to your expectations.
Meet Nylabone, a brand committed to making reliable dog chews and healthy edibles. Nylabone dog toys are made to prevent destructive behavior, anxiety, and to strengthen your pet's teeth.
Their treats, on the other hand, are natural, delicious, and created to last longer for your chewing dog.
In the rest of this article, you will get to know whether these Nylabone dog chew toys are safe for your pet, what they are made of, what to consider before making a selection, plus a roundup of the best Nylabone products.