You can use hydrocortisone cream on dogs to soothe minor irritations like bug bites and small rashes. Vets often recommend it to treat skin allergies, inflammatory skin diseases, infections such as hot spots, and to help decrease ear inflammation in dogs with severe ear infections, says Butzer.
Other Canine Allergies
Dogs may experience occasional allergic reactions.
You'll know your dog is suffering from allergies if they exhibit any of the following signs: runny nose, excessive sneezing, biting and licking their paws, rash development, itchy skin, and/or lethargy.
While a chronic allergy in dogs is best looked at by a veterinarian, non-threatening allergies – many of which are present seasonally – can be treated with hydrocortisone cream for dogs and other hydrocortisone products, such as flea allergy dermatitis (15).
However, it's important to note that hydrocortisone will not treat allergy at its core.
The effect of hydrocortisone use is merely easing any potential inflammation or itchiness found on your pet's skin.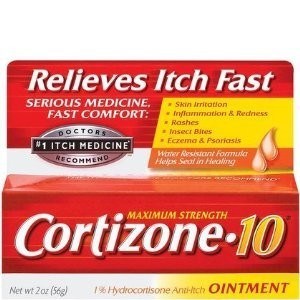 As a matter of fact, veterinarians prescribe it for allergies, joint pain (including arthritis and osteoarthritis) and other types of inflammatory-related pain.
Involve your vet no matter how you envision this steroid should be used on your pet — either orally, as a topical cream or via injection.
Veterinary Formula Clinical Care Itch Relief Spray for Dogs
Another trendy hydrocortisone spray for dogs is made by a well-known brand, Veterinary Formula Clinical Care.
This is a dye-free anti-inflammatory spray meant to be used for minor skin ailments in dogs and most commonly used by dog owners for itch relief and hot spots.
You can also use it to heal wounds on dogs, reduce swelling and redness, and insect bites. For hot spots, dermatitis, and similar skin problems, its recommended to use this alongside their antiseptic shampoo and itch supplements.