[/et_pb_text][et_pb_ src="https://www.nzymes.com/wp-content/uploads/2017/03/karma-greart-dane-puppy-knuckling-over-800×800-1.png" alt="Great Dane Karma Recovers from Knuckling Over legs" title_text="karma-greart-dane-puppy-knuckling-over-800×800″ align="center" _builder_version="4.9.4″ _module_preset="default" custom_padding="|10px|10px|10px|false|false" border_radii="on|10px|10px|10px|10px"][/et_pb_][/et_pb_column][et_pb_column type="1_2″ _builder_version="4.9.4″ _module_preset="default"][et_pb_text _builder_version="4.9.4″ _module_preset="default" custom_padding="||10px||false|false"]
[/et_pb_text][et_pb_ src="https://www.nzymes.com/wp-content/uploads/2017/03/karma-greart-dane-puppy-after-800×800-1.png" alt="Great Dane Karma Recovers from Knuckling Over legs" title_text="karma-greart-dane-puppy-after-800×800″ align="center" _builder_version="4.9.4″ _module_preset="default" custom_padding="|10px|10px|10px|false|false" border_radii="on|10px|10px|10px|10px"][/et_pb_][/et_pb_column][/et_pb_row][et_pb_row _builder_version="4.9.4″ background_size="initial" background_position="top_left" background_repeat="repeat"][et_pb_column type="4_4″ _builder_version="3.25″ custom_padding="|||" custom_padding__hover="|||"][et_pb_text _builder_version="4.9.4″ hover_enabled="0″ sticky_enabled="0″ text_orientation="justified"]
The term coined by professional breeders for this condition is knuckling over, and it describes a condition where the front end assembly of the dog, the weight bearing part of the body, is unable to support the whole body weight of the puppy, due to a lack of integrity in the muscle, tendon and ligaments.
Nutrition & Knuckling in Giant Breeds
It is believed that nutrition is a key factor in bone and growth disorders in giant breed dogs.
It is extremely important to find and stick to an appropriate balanced diet for your puppy! Unfortunately, the community still promotes many myths.
Common myths include:
"Great Dane puppies should never have puppy food"
"Purina, Royal Canin, and Hill's Dog foods are trash"
"Protein levels MUST be below 24%!"
"Fresh roasted deboned meat, fruits and veggies are healthy and more nutritious for dogs than meat meals made of muscle, bone, organ, and cartilage"
We recommend:
Protein – ignore this number if you are choosing a professionally balanced food recommended on this page
Fat – ignore this number as well, for the same reason as above
Phosphorus close behind calcium.
The following brands are correctly formulated and tested for the growth of our gentle giants.
There are 300-400 new boutique food brands offered each year in the U.S. When you choose science instead of fancy bags and marketing, it's easy to narrow the options down.
Here is a list of 'Great Dane food deal breakers'!
Grain-free kibbles
Boutique diets and marketing brands that don't staff a Veterinary Nutritionist, don't fully test their foods, and don't participate in research including (but not limited to) Fromm, Victor, 4Health, Nulo, Acana, Orijen, Diamond, Costco, Solid Gold, and Earthborne
Doesn't meet WSAVA Guidelines for ethics and responsibility (see above)
Vegan, vegetarian, low-meat, or cricket-based dog foods
Dog foods that utilize ingredient splitting to trick you
Foods with fresh 'deboned meat' paired with peas, potatoes, fruit and veggies
MLM Marketing Scheme breeder kickback brands (Life's Abundance, TLC, NuPro)
Choosing the correct food for your Great Dane puppy is extremely important! Chat with your breeder and a giant-breed knowledgeable veterinarian for more advice.
Poor nail maintenance and slick floors
Great Dane puppy nails should be trimmed weekly. Do not ever let them get so long that they touch, scrape or click on the ground.
Hard, slick surfaces contribute to early joint damage and knuckling.
Encourage your puppy to play freely on soft, varied terrain in lieu of walks on hard pavement. Use runners and throw rugs to eliminate slipping and sliding in your home.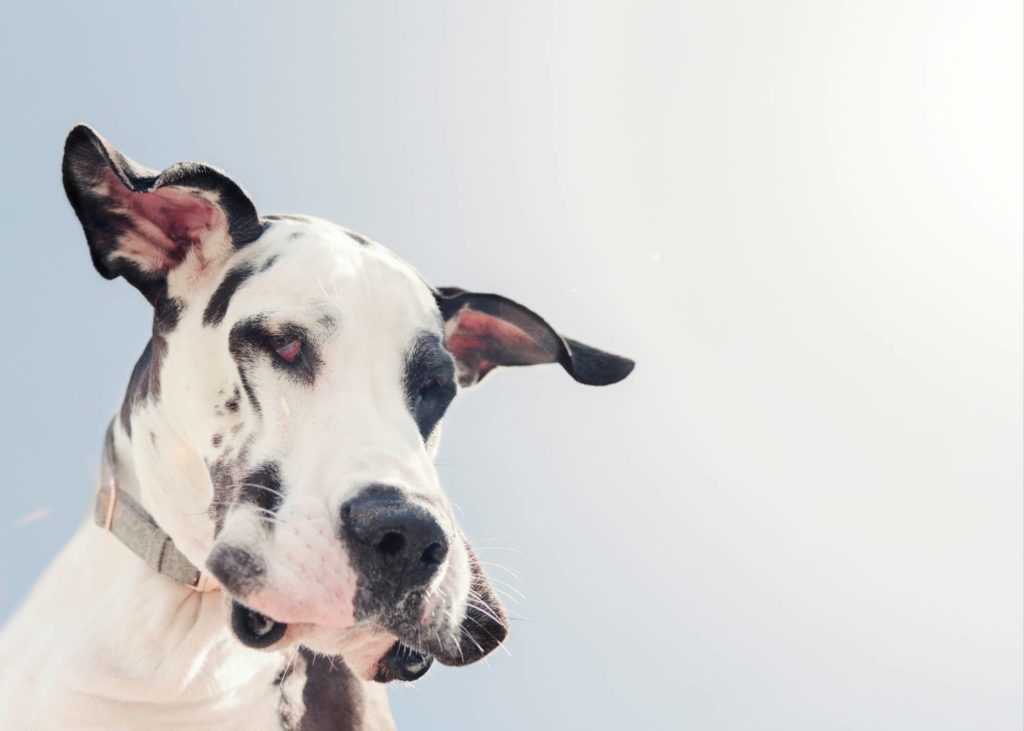 What are the Signs & Symptoms of Knuckling?
This photo above is a fairly severe case: notice the bowed appearance and toes.
It's important to understand the warning signs that may indicate early or developing problems in your puppy, and see a giant-breed-knowledgeable veterinarian ASAP.
Symptoms of puppy knuckling include:
Weak limbs that 'shake' on soft surfaces
Flat toes/splayed feet
Ankles that rest over the top of the foot
Bowing out
Crooked front limbs or 'ballet feet' (which may also indicate growth plate damage and angular limb deformity, more serious than knuckling)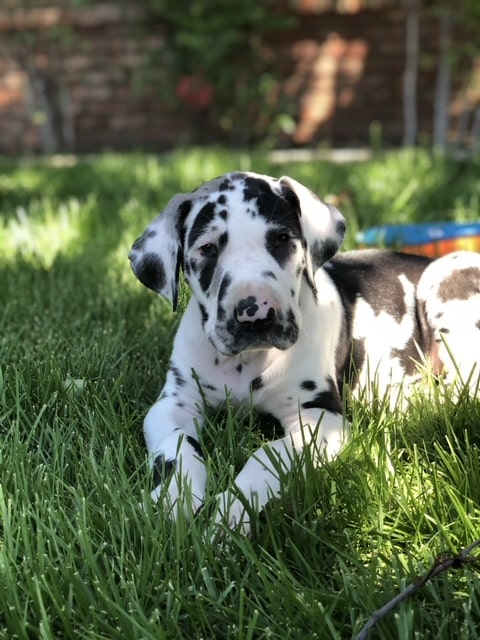 FAQ
What does knuckling over mean in dogs?
How to Fix Knuckling in Great Dane Puppies
Change the diet ASAP. …
Add Vitamin C.
Put runners down, everywhere. …
Do not allow your puppy to jump up or to launch themselves off of furniture. …
Avoid hard pavement and leashed walks, which are hard on joints and don't allow the puppy to move naturally.
Is knuckling in Great Danes genetic?
Knuckling occurs when your pet stands on the top of the paw, instead of normal paw positioning and has no idea that his paw isn't in a correct position. Paw knuckling is a sign of a neurological disease.