12 Bad Dog Foods to Avoid
At first glance, IAMS products don't seem so bad. The first ingredient is usually chicken, which is a great protein source.
However, when you start to look at some of the other ingredients used, it starts to become evident that this dog food isn't a good option for your dog.
First, it has corn meal. This is nothing more than a filler. Secondly, it uses chicken byproduct meal. There's that controversial "byproduct" again.
While this byproduct is identified, IAMS doesn't provide any information about what the byproduct is. Is it beneficial organs or is it slaughterhouse waste?
Finally, there's sorghum and beet pulp. Sorghum is similar in nutrient content to corn meal. Meanwhile, beet pulp is a high-fiber byproduct that can lead to weight gain.
| | |
| --- | --- |
| Crude Protein | 25.0% min |
| Crude Fat | 14.0% min |
| Crude Fiber | 4.0% max |
| Moisture | 10.0% max |
| Calcium | 1.05% min |
| Selenium | 0.35 mg/kg min |
| Vitamin E | 60 IU/kg min |
| Omega-6 Fatty Acids | 2.05% min |
The biggest issue with Kal Klan is that there are no wholesome meat-based protein sources. The very first ingredient on the list is usually corn.
Meat should always be the first on the list regardless of the brand or price. Having corn as the top-listed ingredient is always a red flag.
As if that weren't enough, Kal Klan uses soybean meal and bone meal. Soybean meal is a byproduct of making soy oil. Meanwhile, bone meal is nothing more than ground-up bone and cartilage.
Of course, there's no way to tell what animal is being used. So it's best to avoid it.
Twin Pet primarily uses plants for their dog foods. While some plants are beneficial to your pup's health, a fully plant-based diet isn't good. Dogs need meat.
Once again, the first ingredient on the list is corn. However, that's not even the most troubling thing in the formula. You'll also find meat byproducts and wheat middlings.
Byproducts aren't great because they come from questionable sources. Wheat middlings is bad because it's basically the leftover dust that comes from milling wheat.
Purina is a very popular dog food manufacturer that's been around for over a hundred years. Dog Chow is one of the most popular brands owned by Purina. You can find it in virtually every grocery store.
Unfortunately, it's filled with some unsavory ingredients. It utilizes all of those unhealthy fillers like corn, wheat, and soy.
But that's not all. You can also find a bevy of artificial ingredients.
Dog Chow contains artificial colors, flavors, and preservatives. All of that should be avoided.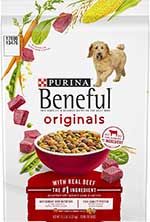 Beneful is another brand that's owned by Purina. Like other Purina products, Beneful foods can be found at very affordable prices.
The tricky thing about Beneful dog food is that the company advertises "real meats."
Real meats are indeed used. However, so are byproducts and fillers. Chances are, the fillers greatly outweigh the real stuff.
All of the Beneful formulas contain corn, wheat, and soy. They also have artificial ingredients.
Gravy Train is a pretty popular canned food brand. There are some good things in the Gravy Train formula. You can find things like chicken and lamb.
Unfortunately, some questionable ingredients are used as well.
Meat byproducts are the biggest red flag on the ingredients list. As we mentioned earlier, these products can come from unknown sources.
The fact that they aren't identified should be a cause for concern.
Typically marketed as an indulgent food for small dog breeds, Cesar Filets have a pretty big hold on the dog food market.
These products are available in big-name grocery stores across the world, making them highly accessible.
The biggest issue we see with Cesar Filets is the salt content. The wet food is very high in sodium, which could pose a significant health risk for your dog as they get older.
On top of that, the recipe calls for potentially unhealthy meat byproducts.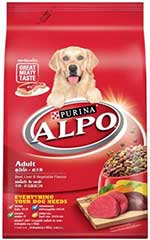 Another Purina-owned brand is Alpo. Alpo has one of the most contentious reputations in the dog food industry. Many reports have come out about dogs getting sick and dying after eating Alpo food.
While one could argue about the connection, these complaints got so bad that the FDA got involved.
After investigating the production line, the FDA put out warnings for consumers. There were even some recalls. For those reasons, we recommend avoiding Alpo altogether.
Diamond pet foods are marketed as premium products without the premium price. There are some good things about Diamond dry foods, such as the use of chelated minerals.
However, the protein ingredients are where things get a bit hairy.
The brand relies heavily on plant-based proteins instead of wholesome meats. They utilize corn, wheat, and soy. Not only that, but unnamed byproducts are pretty common as well.
There's no doubt that you've seen some funny Kibbles N' Bits advertisements at some points. Thanks to their great marketing campaigns, this brand is fairly popular and has done a great job of convincing owners that it's a tasty choice for dogs.
That said, the ingredient's list shows that the formulas rely more on corn fillers rather than wholesome proteins.
Corn is the first ingredient on the list, which indicates that it's the most prevalent in the recipe.
The Pedigree brand has a large line of products marketed towards puppies, adults, and senior dogs. The dry dog food products are relatively affordable and readily available.
While not as bad as some others on this list, Pedigree is definitely not a good long-term option for dogs.
Whole grain corn is the first ingredient on the list. It's a common allergen and isn't the easiest thing to digest. Artificial flavors are used as well, which have no place in dog food.
Wegman's is a very affordable dog food brand. However, when you take a look at the ingredient's list, you'll find a lot of things you should avoid.
The formula contains ingredients that many experts agree are dangerous for dogs. This includes xantham gum, cord gluten, artificial food coloring, and more.
While it has an attractive price tag, those harmful ingredients could do long-term damage to your dog's health.
Is IAMS A Good Dog Food Brand?
IAMS is a well-known brand that makes numerous types of food, from dry kibble to wet food options for dogs of various ages and stages. IAMS is a considered a decent dog food brand in the moderate price range, likely being a better choice than big-box store dog food brands in terms of dog food quality.
IAMS is good in the fact that it is easily available at stores, generally has better ingredients than some lower-cost brands, and has a lot of varieties.
Still, there are a few factors that you could argue keep IAMS from being a true 5-star dog food brand.
When IAMS was first developed in the 1900s, it was a focused attempt at creating a high-protein, shelf-stable, dry dog food.
While the man who invented the recipe was not a nutritionist himself, he did manage to create a dry dog food that's high in animal meat as a protein source.
The best dog foods on the market today can still name specific meat sources for both their wet and dry food recipes, unlike the more vague labels of larger brands that source many types of meats for their protein source.
But as mentioned earlier, IAMS dog food is mass-produced in large factory settings, which could be the reason behind many of the dog food recalls.
IAMS has been recalled for concerns such as salmonella, mold, and other toxins being present in their food.
While most large-scale produced dog foods have had recalls at some point, this problem is much less common among smaller family-owned and operated brands.
Ultimately, and on the whole, IAMS is considered safe dog food as recalls are a small minority of total sales.
It makes a good option for people who need quick access to dog food at the store and is looking for an easy to serve product.
For those wanting dog food with the highest quality of ingredients and a lower risk of recalls, there are other brands to consider.
Caramel Food Coloring
One ingredient that isn't high on the list in IAMS dog foods, but has caught the eye of nutritionists, owners, and some veterinarians is the use of caramel food coloring.
The true impact of food coloring on a dog's health has been debated for some time.
Recent studies have shown it may be a cause of cancer when fed to some animals in laboratory settings.
Artificial coloring may enhance the appearance of dog food, but it doesn't generally affect flavor or positive nutritional value for dogs.
For this reason, some owners and veterinarians prefer foods without dyes, such as caramel coloring.
FAQ
Is Iams dog food good or bad?
Rating: Iams ProActive Health Dog Food receives the Advisor's second-highest tier rating of 4 stars.
Is Iams brand good for dogs?
Yes, IAMS Dog Food is good. Iams uses whole foods and carefully selected ingredients to make nutrient-dense recipes for dogs of all life stages. The formulas are loaded with health-boosting and natural ingredients. They come free from artificial preservatives and additives.
Is Iams low quality?
Bottom Line. Overall, Iams seems to be good pet food for its affordability, even if they do produce average-quality pet foods that are slightly high in by-products and fillers.
What dog foods should I avoid?
To help you with this, we have listed ten ingredients to avoid in dog food.
BHA (Butylated Hydroxyanisole) First on our list is butylated hydroxyanisole, also known as BHA. …
White Flour. …
Meat Meal. …
Artificial Food Coloring. …
Corn Syrup. …
Rendered Fat. …
Vegetable Oil. …
Farmed Salmon.