Aurelio is an ordinary guy who likes to write about the extraordinary things he encounters in the world.
A two-year-old female Cairn terrier named Terry played the iconic animal in the Wizard of Oz film, which was based on Frank L. Baum's classic book The Wonderful Wizard of Oz. The book never mentioned a dog breed, but called him (yes, it was a male in the book), "a little black dog, with long silky hair and small black eyes that twinkled merrily on either side of his funny, wee nose." W.W. Denslow, the original illustrator of the book, drew Toto as a terrier. MGM thus cast a terrier to match the drawing.
Terry was born on November 17, 1933, and was trained by her owner Carl Spitz. She appeared in 15 films, including the 1934 Bright Eyes with Shirley Temple and the 1942 Tortilla Flat with Spencer Tracy. Coincidentally, Victor Fleming directed her in both Oz and Flat. However, she only ever received credit for Oz.
For her work with Judy, Terry received $125, which is equivalent to $2,294 in todays dollars. This was more than the wages of many actors in the film and many workers during the Great Depression. (The Munchkins, for example, received $100 a week, or an equivalent $1,835. In contrast, Judy Garland received $500 a week, or $27,532 for today.)
At one point, a Winkle guard stepped on her foot and broke it during filming. The production company used a second dog for filming while she healed. Terry attended the 1939 premiere of the film at Grauman's Chinese Theater in Hollywood.
She died on September 1, 1945, at the age of 12, and was buried in a small pet burial area behind owner Spitz's house and kennel. (Carl Spitz died in 1976.) Unfortunately, CalTrans took over the property and razed the site in 1958 to widen the 101 (Ventura) Freeway.
In 2010, JP Myers expressed his outrage at this star's treatment by creating a Facebook page designed to remember Toto. Supporters donated thousands only to have L.A. Pet Memorial Park in Calabasas, California, turn down the memorial marker. Fortunately, Tyler Cassity, owner of Hollywood Forever Cemetery, donated a $100,000 VIP plot at this final resting place of Rudolph Valentino, Fay Ray, Peter Lorre, and Jayne Mansfield. The memorial was dedicated on June 18, 2011, and includes a life-sized bronze Toto statue sculpted by Roman Gal on top of a marble base designed by Arsen Oganesyan. Part of the dedication reads There's No Place Like Home. Rest in Peace, Dear Friend.
1942 George Washington Slept Here: Dog (uncredited) 1942 Tortilla Flat: Little Paelito (uncredited) 1942 Twin Beds: Dog (uncredited) 1940 Cinderellas Feller (short): Rex the Dog (uncredited) 1940 Calling Philo Vance: Philos Dog – McTavish (uncredited) 1939 Bad Little Angel: Dog (uncredited) 1939 The Women: Fighting Dog at Beauty Shop (uncredited) 1939 The Wizard of Oz: Toto (as Toto) 1938 Stablemates: Pet Dog (uncredited) 1938 The Buccaneer: Landlubber – Gretchens Dog (uncredited) 1936 Fury: Rainbow – Joes Dog (uncredited) 1935 The Dark Angel: Dog (uncredited) 1934 Bright Eyes: Rags – Loops Dog (uncredited) 1934 Ready for Love: Dog (uncredited)
I knew this was going to be a fun hub to read. I really enjoyed it – didnt realize that little dog had been in so many movies I watched the video clip and got a kick out of Toto. So adorable!
Beautiful hub, and so well written that I enjoyed it so much. So nice to know that Toto has a monument to him in such a formidable setting. GBY.
An entertaining and unusual piece of information on one of the well-known animals of the silver screen! I have seen Toto in the film The Wizard of Oz and he looked so cute. He is probably one of the most famous and successful animal stars with 15 films to his credit. Nice to know that there is a bronze statue of Toto in his memory. A nice and engaging hub! Well-done!
What a life, they should make a movie about Terry, although not as sad as the story of "Hachi: A Dogs Tale". Although now I can say to friends that Toto had a highway built over her… love reading something I have never heard before… 🙂
This was short, sweet, and very interesting. Poor little Toto (Terry), being famous then having a highway built over her! So nice that people got together to build a memorial. I know she was only a dog but a great little dog. Thanks for this enjoyable hub.
I am a sucker for movie tid bits like this! I like you artice far more than the movie! One rich pup hih? Like reading a fun hub tonight 🙂 Voted up 🙂
Hey alocsin, great hub! I just wrote a funny hub on the Wizard of Oz. You said "The book never mentioned a dog breed" and I dont think you mentioned the breed in your hub, so Totos breed was a Yorkie.
Thank you for this information, alocsin. I think that its important that dog actors get credited in films, and their trainers too. It was interesting to learn about Terry and her work.
Ah, the memories this movie brings back. Our family used to have a yearly tradition of watching The Wizard of Oz. What an awesome memorial for little Toto. Animals deserve credit too! Voted up and beautiful!
Nice to know more about the dog who played Toto in the film the "Wizard of Oz." He was a cutie! Voted up and interesting.
The Issue With Investigating Toto's Breed
When trying to decide what kind of dog Toto was, we're faced with one small problem: His breed seemed to change over time.
Most people are familiar with the version of Toto from the 1939 movie; that dog was played by a Cairn Terrier.
A quick aside about the movie Toto: That dog was actually a female Cairn Terrier named Terry. Terry made $125 a week for her performance, which is the equivalent of about $2,300 now — not bad for a little pup.
The movie, however, was based on a fantasy novel by L. Frank Baum named "The Wonderful Wizard of Oz." Toto's breed is never mentioned in the books, and many scholars insist that he was supposed to be a mutt. He's described as having long, silky hair — just like a Yorkie.
One other thing worth noting is the fact that the book's illustrator, W.W. Denslow, was the proud owner of a Yorkshire Terrier. Did he take liberties with his drawings? Toto certainly looks like a Yorkie in the original books.
"The Wonderful Wizard of Oz" wasn't a standalone book — Baum turned it into a whole series, adding another 14 titles after his first hit novel. Each of these was set in Oz.
Interestingly enough, Baum does mention Toto's breed in the sequels: He clearly says that Toto was a Boston Terrier. Why? It's never stated. Apparently, Baum just decided that Toto needed to be a Boston.
That resolve lasted until the final book in the series, at which point, Toto was turned back into the mutt/Yorkie/Cairn Terrier hybrid. Why was this change made? Again, we have no answers.
One thing's for sure, though: Baum certainly had a hard time making up his mind.
What About the Other Version of Toto?
We've covered how Toto was portrayed in the books and the movie, but there's another film that put its own distinctive spin on Dorothy's faithful companion.
We're referring, of course, to "The Muppets' Wizard of Oz."
In this film, Toto is clearly played by Pepe the Prawn. We should note that Pepe plays him as a prawn, and we never get to see him do an impression of a Yorkie or a Cairn Terrier.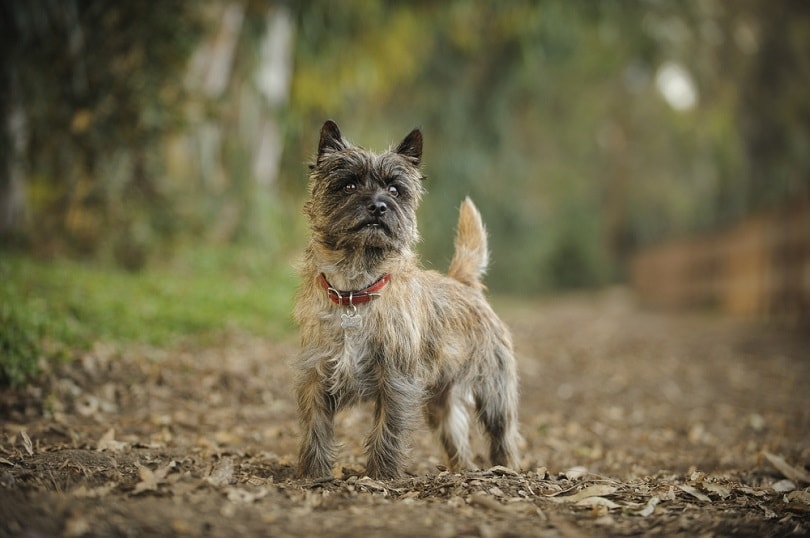 They are named after a pile of rocks.
The word cairn refers to a stack of stones, formed either naturally or by human hands, that are used as road markers and memorials. These are prime real estate for mice, rats, and other small vermin, and the dogs were developed to go in and flush them out.
Ideally they should weigh no more than 13 or 14 pounds. This was essential for their original purpose, which was to wriggle into burrows and rocky passages after critters.
FAQ
Is Toto the dog male or female?
Frank Baum's book The Wonderful Wizard of Oz depict Toto as what some say seems to be a Yorkie. The assumption makes sense, considering the breed was popular at the time and that the illustrator W.W. Denslow owned one. We will never know for sure, but we are certain that in the movie, Toto is played by a Cairn Terrier.
Are cairn Terriers good dogs?
Great with kids and other dogs, cairns make excellent family pets, and are adaptable to pretty much any living situation (apartments included!) so long as their moderate exercise needs are met. The cairn terrier has a short and shaggy coat that's easy to care for, with minimal shedding.