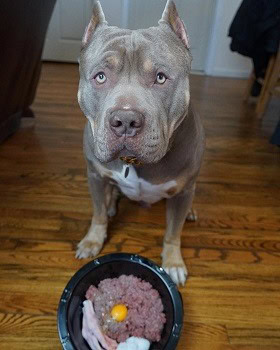 Let's be honest: buying dog food can be tricky. Between the sudden recalls of well-known brands and new allergies popping up everywhere, it's tough to find the right food for any dog, regardless of breed and size. However, it can be even more difficult to find the right food for dogs like American Bully Dogs that may require more calories and protein compared to other breeds.
It's also hard to find the best dog food that is well-balanced and nutrient-packed without sacrificing on quality, or it's overpriced and will run your monthly bill through the roof. Thankfully, we've done the hard work, so you don't have to. We tested and reviewed the best dog food aimed for bully breeds and their dietary needs while keeping quality and value in mind. Here is our list of in-depth reviews of the 7 Best Dog Food for the American Bully:
Merrick Classic Healthy Grains Adult (Grain-Inclusive)
Merrick is known for giving your dog a delicious dinner they want to repeat over and over again. Using real deboned chicken as its first ingredient, this recipe also contains brown rice and ancient grains like barley and quinoa. These added ingredients are a fantastic source of complex carbohydrates if your Bully is always on the move and needs the extra energy. This is one of the few grain-inclusive options in this review and it's an excellent one.
And since your dog is so energetic, Merrick has also included Glucosamine and Chondroitin to help strengthen your dog's joints. They'll be agile and happy to frolic and play as much as they like. Take them out to the dog park. Your Bully envies all with their lustrous coat and clear skin thanks to Omega fatty acids found in Merrick's formula.
If your adult American Bully leads an active lifestyle, you need to support it as much as possible with the proper nutrition. Diamond Naturals' Extreme Athlete formula uses protein from real, cage-free chicken. This gives your dog an optimal amino acid profile, so they can continue building big, strong muscles that are lean and powerful.
Fruits and vegetables like kale, papaya, and spinach all provide a boost of vitamins and minerals to boost your dog's organ functions and immune system. A blend of Omega fatty acids does wonders for your Bully's skin and coat. This formula is highly digestible with proprietary probiotics, ensuring efficient and complete nutrition for your Bully athlete.
Best Dog Food For Senior American Bullies
As a senior, your American Bully is calmer than in their younger years. This means they won't be as active as before and eats the least amount of food. It is best for them as they are most prone to obesity in their senior years since they exercise less and have more difficulty processing food. Obesity in a senior dog can be devastating, as this opens up many possibilities for debilitating illness and mobility issues. As such, keep your senior dog's portions in control now more than ever. The right amount of food can give them a much longer life.
Your American Bully has a much more sensitive stomach as a senior dog. This means that you must look for food that is gentle on their digestive system. Food that contains prebiotics, probiotics, and decent amounts of fiber can do wonders for their digestion. This can help them absorb nutrients a lot better, keeping them healthier than if they'd gone without them. Your Bully's senior food should also address other needs as your dog ages. These are best combated with food that contains plenty of nutrients, especially for fortifying your dog's weakening immune system. Here are some of the best foods we've found for senior American Bullies.
A Homemade Recipe You Can Try for Your American Bully
Any homemade diet you cook should be carefully formulated to ensure it is nutritionally complete and uses high-quality proteins.
Work with your vet to help ensure your canine is getting everything they need through your homemade diet.
You should vary the diet somewhat, as a varied diet will contain more nutrients than a static one.
You should always feed your dog according to the directions on the dog food container. Different foods have different nutritional levels, which means your dog may need to eat more or less of them.
Still, the average American Bully will need between 3 ⅓ to 4 cups of food a day. You can split this between multiple meals. American Bullies will likely do best when fed at least twice a day.
Also read: American Bully Growth and Weight Chart
FAQ
What is the best food for an American bully puppy?
The Orijen Puppy Large Grain-Free Dry Puppy Food is the best option for American Bully Pups. It is made using all parts of the animal, including organ and bone ingredients, to give your puppy complete nutrition. This food is more than 85% animal protein in the form of a poultry and fish blend.
What is the best food for an American bully?
The 7 Best Dog Foods for American Bullies
Taste of the Wild Wetlands Grain-Free Dry Dog Food – Best Overall. …
Victor Select Dry Dog Food – Best Value. …
ORIJEN Puppy Large Dry Dog Food – Best For Puppies. …
Tuffy'S Pet Food Nutrisource Dry Dog Food. …
Nulo Freestyle Grain-Free Dry Dog Food. …
Orijen Tundra Grain-Free Dog Food.
How many times should you feed American Bully puppy?
Here are The Dog Food Advisor's best dog foods for bullies for September 2022.
Annamaet Ultra 32% Dry Dog Food.
Bully Max High Performance for Pitbulls.
Nom Nom Fresh Dog Food.
Dr. …
Crave Premium Adult Chicken.
Taste of the Wild Wild Wetlands Dry Dog Food.
Diamond Naturals All Life Stages Formula Dog Food.