If you are in a hurry and just want to find out what the best dog food for pitbulls to gain muscle and weight is, then we recommend the Bully Max High Performance Super Premium Dog Food as the best one.
Like any pet parent, you want your furry friend to thrive and get the proper nutrients he needs. But what if your canine companion is naturally athletic and needs more proteins and fats to gain muscle and maintain optimal weight—like a pitbull?
Pitbulls need a special diet to stay healthy and energized. Luckily, we discuss some of the best dog foods for Pitbulls to gain muscle and weight.
Best Dog Foods for Pitbulls to Gain Weight and Lean Muscle
1High Performance Super Premium Dog Food by Bully Max.
2High Protein Real Meat Recipe by Taste of the Wild.
3Sport Formula Dry Dog Food by Purina Pro Plan.
4Great Plains Feast Grain-Free Dry Dog Food by Earthborn Holistic.
5Grain Free Recipe Dry Dog Food by Merrick.
A Quick Comparison of Our Favorites in 2022
Rating
Product
Details

Best Overall

Wellness CORE Large Breed

First ingredient is deboned chicken
No by-products
or artificial dyes or preservatives
Supports muscle growth
Check Price

Best Value

Taste of the Wild Grain-Free

First three ingredients are animal proteins
Nutrient-rich
No grains or fillers
Check Price

Premium Choice

Elite K9 Nutrition Max

First two ingredients are animal protein
Contains probiotics
High-quality grains only
Check Price

Earthborn Holistic Great

Many whole food ingredients
No by-product ingredients
Builds lean muscle
Check Price

Bully Max High Super Premium

More calories per serving
For puppies 4 weeks or older
Check Price
Proper Diet for Pit Bull's Muscle Gain
The approach to creating a muscular and athletically adept Pit Bull is two-pronged, much the same as it is for the human athlete. The first prong being your bullys diet.
A well-balanced diet is important for any dog, but for a dog that is athletically inclined, it is even more important. Canine athletes eat differently and this needs to be monitored.
Your dog's diet should provide the basic nutrition needed by his body, but it should also provide the additional nutrients needed to repair muscle fibers and build new muscle. Selecting the right diet for your dog is definitely something that should be discussed with your veterinarian or a canine nutritionist before you make any changes yourself.
The first step in a healthy diet for an athletically built dog is to invest in a good quality dog food.
Just as a human athlete will not bulk up by eating junk food, a dog cannot bulk up by eating a food that is full of fillers and other "junk" ingredients and is low in protein.
So, where do you start on the search for a high-quality dog food for pit bull muscle gaining? Learn how to read dog food ingredients label first.
Look for named meat protein sources like "beef", "buffalo", "lamb," or "chicken" and avoid foods that are filled with artificial ingredients like food dyes, unnamed meat sources like by-products or unnecessary ingredients like "corn gluten meal".
The aim is to get dog food that is as efficient as possible by cutting down the ingredients list to whole foods that all provide nutrition. Organic dog food brands are usually a good point to start, but there are some other healthy dog foods that may fit your Pit Bulls diet well and provide him all the nutrition for regular exercise and training.
Speaking of nutrition, in addition to finding high-quality ingredients, you must also focus on finding dog foods with macronutrients that cater to an athletic lifestyle specifically. Look for dog food brands that are rich in protein and fat; carbs dont need to be avoided.
Protein will help to build muscle and repair muscle fibers damaged during exercise. Fat will help to maintain body weight despite physical exertion. It is important to ensure that fats included in food are healthy fats, however, because Pit Bulls can also become obese.
Striking a good balance in the diet of the athletic dog is very important. Without enough protein, your Pit Bull isn't going to gain any muscle and will recover much slower from conditioning and heavy exercises.
On the other hand, vets also say that too much protein may cause your dog to suffer from damage to his kidneys. Too much fat and your dog will become obese, not enough fat and he will begin to lose weight due to the insufficient caloric intake.
So, what kind of balance are you looking for in a dog food that is optimized for an athletic or working dog? Ideally, the canine athlete requires a diet that is around 30% protein and 25% fat. Adding supplements for dogs like omega fatty acids, glucosamine, and chondroitin may also be extremely beneficial and improve your dogs performance.
How often and how much should you be feeding this food to your bully? Its a tricky question, and thats why you must consult with a vet beforehand.
The American Pit Bull Terrier's weight ranges so drastically that there is no definitive answer to how much you should feed him. The best place to begin is to follow the recommended feeding instructions on dog food labels and specifically on those that have been developed for a working or athletic dog.
Base your feeding amounts on your dog's current weight. If you notice that he is losing weight or still seems to be hungry after eating, increase the amount of dog food per serving just so slightly. Just be sure not to overfeed your canine.
FURTHER READING: The Low Down On the Paleo Diet for Dogs
There are many supplements on the market that target Pit Bull owners in particular. The truth about these supplements, however, is that they contain the same ingredients as multivitamins. The problem with that being that when you feed your dog a healthy and high-quality diet, he will not need to take a multivitamin.
If, after consulting with your vet, your vet recommends multivitamin support, consider a multivitamin rather than a more expensive formula with the same ingredients. There are some supplements that your bully can benefit from when bulking up, including:
A high-quality joint supplement – the levels of glucosamine, chondroitin and omega fatty acids in dog food are often not high enough for the needs of an athletic dog. To offer your Pit Bull complete joint support, consider a vet approved joint supplement. The more you train your Pit bull, the more stress his joints receive, so its vital to provide nutritional support to avoid any complications and especially arthritis.
Electrolyte formula – Depending upon the time of year, the exercise routine your dog is taking part in, and his overall health, an electrolyte formula is always good to keep on hand. This should not be a daily necessity, but it is perfect for rehydration after exertion and helping to promote recovery time after training.
There are specific dog food brands for Pit Bulls that are formulated for their lifestyle and heavy duty training and muscle gain. Bully Max 30/20 High Performance dog food is one of the better known brands, but any other performance dog food would work just as well and you dont necessarily need to use this specific formula.
Additionally, there are also protein powders for Pit Bulls that are said to improve their athletic performance and help gain muscle. Muscle Bully Protein Supplement is currently the most popular option. However, many argue whether this is necessary at all, since many dogs can get all these nutrients from regular dog food.
Things to Do Before Choosing Dog Food for Your Pitbull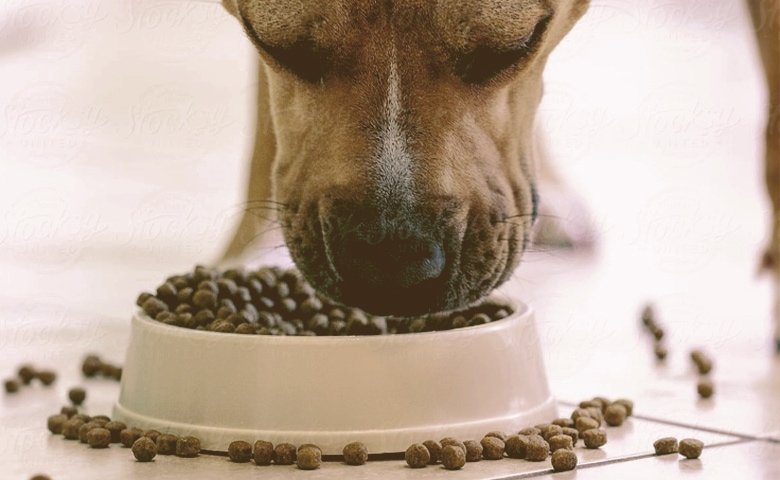 When it comes to choosing dog food, many pet lovers take a "grab-and-go" approach—grab the dog food that appeals to them the most and checkout.
That used to be me. As a pet parent myself, there was no system to how I chose my dogs' food, except for how the packaging looked.
This was before I knew that other factors matter a lot more than the way dog food manufacturers decided to package their product.
FAQ
What can I feed my pitbull to bulk him up?
Look for named meat protein sources like "beef", "buffalo", "lamb," or "chicken" and avoid foods that are filled with artificial ingredients like food dyes, unnamed meat sources like by-products or unnecessary ingredients like "corn gluten meal".
What should I feed my pitbull to gain muscle?
The Best Dog Foods for Pitbulls to Gain Muscle
The Farmer's Dog Chicken Recipe Dog Food – Best Overall. …
Diamond Naturals Dry Dog Food – Best Value. …
VICTOR Classic Hi-Pro Plus Dry Dog Food. …
Purina ONE Natural Dry Puppy Food – Best for Puppies. …
Purina Pro Plan Performance 30/20 Dog Food – Vet's Choice.
How can I make my pitbull thicker?
Best Overall Dog Food for Pit Bulls
Best overall: Bully Max 30/20 High Performance Dog Food.
Best value: Annamaet Original Ultra Formula Dry Dog Food.
Best wet food: Dog Chow High Protein Wet Food.
Best for allergies: Natural Balance L.I.D. Limited Ingredient Diets Dry Dog Food.