Where Can I Find the Best Kennel Near Grand Teton?
You can find several kennel options in the towns near Grand Teton National Park.
Jackson — The town of Jackson is located about 30 minutes south of the Moose Entrance of Grand Teton. DogJax or Spring Creek Animal Hospital will be your best options closest to the park.
Victor — If you head up and over the pass (Highway 22 west of Wilson), you'll hit the small town of Victor. Here you'll find Doggieland and The Hairball Hotel. Options in this area are about 1 hour from the Moose Entrance of Grand Teton.
Star Valley — Star Valley is comprised of the small towns of Alpine, Thayne, and Etna (to name a few). Hawks Rest Ranch or Haystack Pet Resort are good options about 1.5 hours from the Moose Entrance of Grand Teton.
Where Can I Go With My Dog in Grand Teton?
Campgrounds
Grand Teton has seven campgrounds, and all campgrounds allow dogs. If you want to camp with your dog, please be aware that:
Pets are required to be on a 6-foot leash at all times
Dogs cannot make excessive noise
You must pick up after your dog
Your dog can't be left unattended or tied to an object while you're out exploring the park
Learn more about your camping options here. Leashed dogs are also permitted in park picnic areas.
Parking Lots
Your dog can be with you in any of the parking lots in Grand Teton, but they are not permitted to go more than 30 feet from the pavement. If you need to get out of the car and stretch your legs in the parking lot, your dog may join you.
Please don't leave your pet in the car while you hike.
Scenic Drives
Grand Teton has some gorgeous scenic drives that you can enjoy with your dog. If you plan for some time to enjoy the scenery from the car, you can see some spectacular views in the park together!
A few of my favorite scenic roads are:
Moose-Wilson Road (great for wildlife sightings from the car)
Jenny Lake Scenic Drive (dramatic lake and mountain views)
Teton Park Road (lots of pullouts and close-up mountain views)
Highway 191 (several good pullouts with expansive views of the Teton Range)
Signal Mountain Summit (not the best Teton views, but nice views of the valley)
Take a look at the Grand Teton Map to locate these roads before you go.
Leashed pets are permitted to walk on the Moose-Wilson Road, Teton Park Road, and Antelope Flats Road from November 1 – April 30 for winter recreation.
Always clean up after your dog so that these areas continue to be dog-friendly!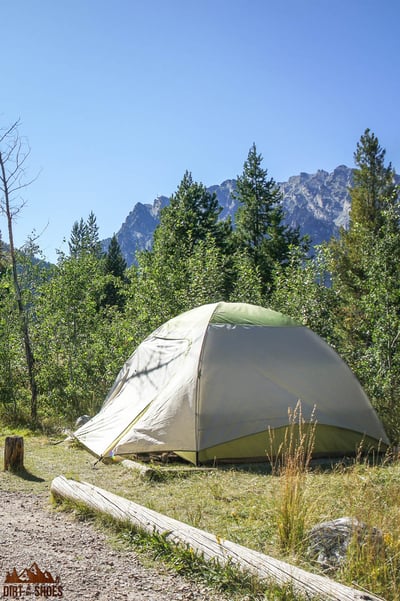 Trails and Pathways
Dogs are not permitted on any trails or pathways in Grand Teton. This includes all trails (frontcountry and backcountry) and the paved multi-use pathway. This pathway travels from the town of Jackson to South Jenny Lake — you'll see it next to the road as you drive along Highway 191 and along the Teton Park Road.
You cannot carry your dog in your arms, push him in a stroller, carry a kennel, put her in a backpack, etc. to get around these rules. The rule is simply that no dogs are allowed on the trails and pathways in Grand Teton National Park.
Please do not leave your dogs in a vehicle while you hike.
If you want to do some traditional hiking with your dog, you'll find some fabulous trail options in the Jackson Ranger District of the Bridger-Teton National Forest. This beautiful forest service area borders the park's south and east sides, and it includes areas like Snow King, the Gros Ventre Wilderness, and Teton Pass. There are dozens of amazing trails and several established campgrounds in this area.
You'll also find a collection of trails in the Teton Wilderness near the northern boundaries of Grand Teton. The Pacific Creek Trailhead is popular in this area of the national forest.
Leashed pets are permitted on the trails in both of these wilderness areas. The Jackson Hole and Greater Yellowstone Area Visitor Center (located along Highway 191 as you drive from Jackson to Grand Teton) can provide trail maps and information about hiking options in the national forest surrounding the park.
Swimming in Park Waters
Pets are not permitted to swim in any park waters, which includes (but is not limited to) Jenny Lake, String Lake, or Jackson Lake. They are also not permitted in boats, with one exception — you may have your pet on board your boat on Jackson Lake only.
Public Buildings
Dogs are not allowed in Grand Teton National Park's public buildings, such as visitor centers, museums, restaurants, or gift shops.
Everywhere Else
If an area isn't listed in the "Where Dogs Are Allowed" section above, then you should assume that your dog is not permitted.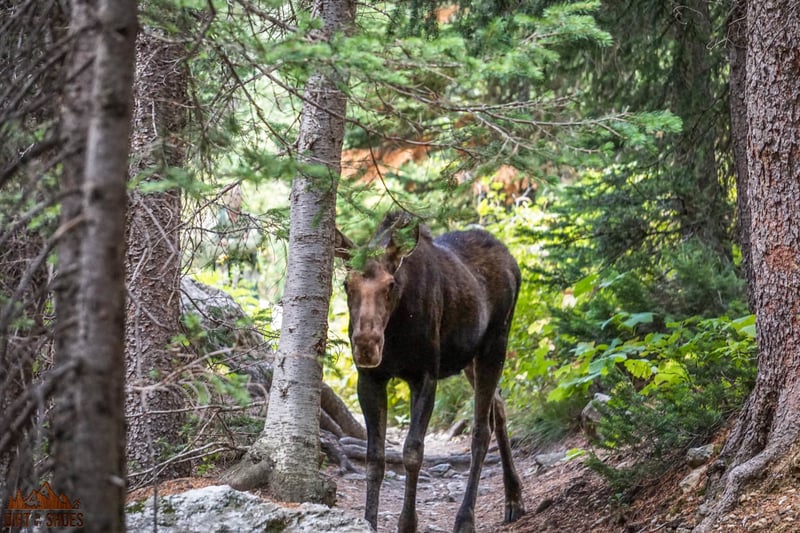 What to Do at Grand Teton
While Grand Teton is home to almost 200 miles of hiking trails, you will not be able to explore them with your dog, unless you are willing to leave your dogs in someone else's care. If you are looking for a more intimate experience with the park, there are a large number of dog boarding facilities nearby which would be happy to watch your dog for the day.
In our case, we chose to tour by vehicle, with the dogs alongside.
How to do Jenny Lake, Hidden Falls, & Inspiration Point
Some may say that exploring Grand Teton National Park with a dog is impossible, but to that I say doggone done it. Is it limiting? Yes. But not impossible and we still had a blast with our pup!