Dogs evolved to eat mostly meat. They can consume fruits and veggies as well, but their diet needs to be made up of mostly meat. As you might imagine, meat contains tons of protein and fat – which is precisely what canines need to thrive.
Ground beef is used to make everything from burgers to tacos. It is also relatively inexpensive, which is mostly why it is used so widely by humans today. While ground beef is absolutely meat, that doesn't necessarily mean you should share your ground beef with your canine.
Generally speaking, plain ground beef is safe for most pets. However, there is a lot you can do to ground beef that can make it unsafe. We'll discuss these situations below.
Raw ground beef puts your dog at risk for salmonella, a bacterial contamination. Salmonella often leads to gastrointestinal illness. Raw meat is not recommended for puppies, dogs with liver or kidney failure, or dogs with cancer.
A Balanced Diet is Important for Your Dog.
Of course, its best to make sure your dog's diet is complete and balanced with the help of your veterinarian or canine nutritionist. Cooked ground beef also contains many vitamins and minerals, including B6, B12, B3, zinc, phosphorus, calcium, iron, and potassium. There are five different types of ground beef based on their fat percentage – we will talk more about fatty acids and fat percentages below. Remember that the nutritional value for 100g of ground beef at different fat percentages will alter the nutritional value.
Ground Beef – Good Source of Omega 3 for Dogs
Ground beef also contains multiple fatty acids that benefit overall skin health and the immune system. Your dog needs essential fatty acids from both omega-6 and omega-3 sources, and ground beef does provide both but not necessarily in the amount to meet the minimum fatty acid nutrient requirement most dogs require. However, ground beef can contribute to the overall requirements for omega-6 and omega-3 fatty acids by adding additional sources of both fatty acids to meet fatty acid nutrient requirements and balance between both fatty acids.
Should you feed your dog ground beef cooked or raw?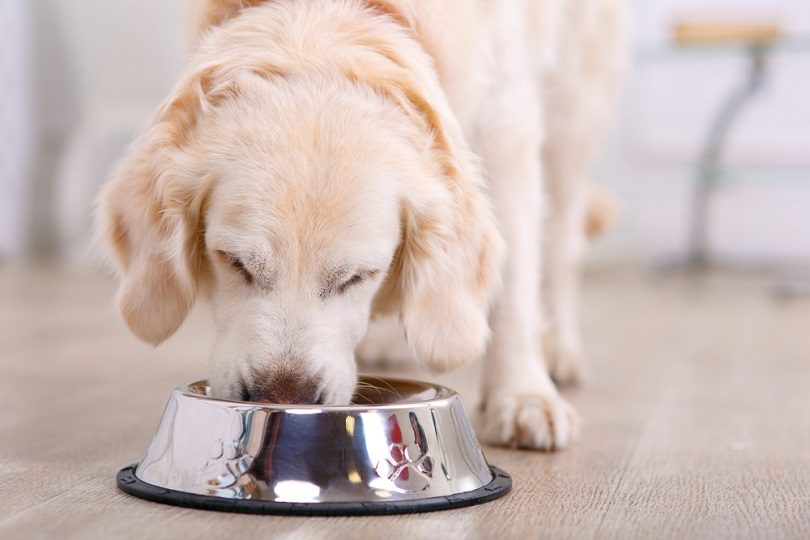 Canines indeed have a more robust digestive tract than we do, especially when it comes to meat. Many dogs can eat raw meat and be just fine. However, raw meat can contain bacteria and parasites that can cause problems for your canine. Many people swear by the raw diet, but there is little evidence that raw food is safer or better for dogs than cooked food.
Cooking the meat removes many of these parasites and much of the bacteria raw beef can include. For this reason, we generally recommend feeding your canine cooked ground beef. While they may not get sick from raw ground beef, there is some additional risk involved.
FAQ
Is ground beef better raw or cooked for dogs?
Raw meat is likely to contain harmful bacteria like Salmonella, Listeria, E. coli and more. Cooking meat to a safe temperature kills off those harmful bacteria. By feeding uncooked meat, there's a higher risk your dog will develop a foodborne illness or other type of bacterial infection.
What raw meats can dogs eat?
A raw dog food diet typically consists of:
Muscle meat, often still on the bone.
Bones, either whole or ground.
Organ meats such as livers and kidneys.
Raw eggs.
Vegetables like broccoli, spinach, and celery.
Apples or other fruit.
Some dairy, such as yogurt.
How much raw hamburger should I feed my dog?
Yes! Beef is a healthy source of protein that sustains your dog's energy. Beef also provides the essential fatty acids like omega-6 along with minerals and vitamins that give your dog a healthy coat, skin, joints, and muscles.