For many of us who call our dogs part of the family, traveling with our pups becomes a part of life. Whether it's heading to the dog park, going on a weekend trip, just running errands, or going to the dreaded veterinarian, chances are your dog spends a decent amount of time in the back seat of your car.
Traveling with a dog isn't always easy. Some dogs have anxiety or get carsick, and sometimes they can get a little overexcited. However, choosing the right dog crate for the back seat of your car can make traveling with your pup easier…and a lot safer! A crate can also reduce anxiety for some dogs as it turns your car into a secure dog den on wheels!
We've compiled a list of the top car-friendly dog crates on the market, along with a review of each but if you want to just ahead and see which back seat crates made the list you can check them out here:
Before we get into the reviews for each, let's cover everything you need to know about finding the perfect crate for your backseat.
How to Choose the Best Dog Crate for Car Backseat?
When choosing a travel crate for your dog, there are various things to consider. The first thing you should learn is what size crate is best. Where standard house crates should have room for your dog to stand up and turn around, this is not the case when the dog will be traveling in a vehicle.
The car-safe kennel should not be cramped, but having too much space to move around can be more dangerous for your dog in an accident. It would be best if you had a separate travel crate for driving; do not try to use a regular house crate or even an airline crate. If you are worried about your dog's need to stretch his legs, take frequent breaks on your road trip.
The second thing to consider is the safety level of your car-safe crate. If safety is your goal, there are many reinforced wall options to ensure that if you were to get into an accident, the kennel is unlikely to break or crack, causing injury to your pet. The less room they have to get tossed around should the crate be projected, the better.
You also want to ensure your pet is comfortable, especially on long journeys. It should always have proper ventilation to ensure your dog does not overheat. You may want to consider a mesh or softer crate option or placing a dog bed or crate mat in the crate to ensure they are nice and cozy.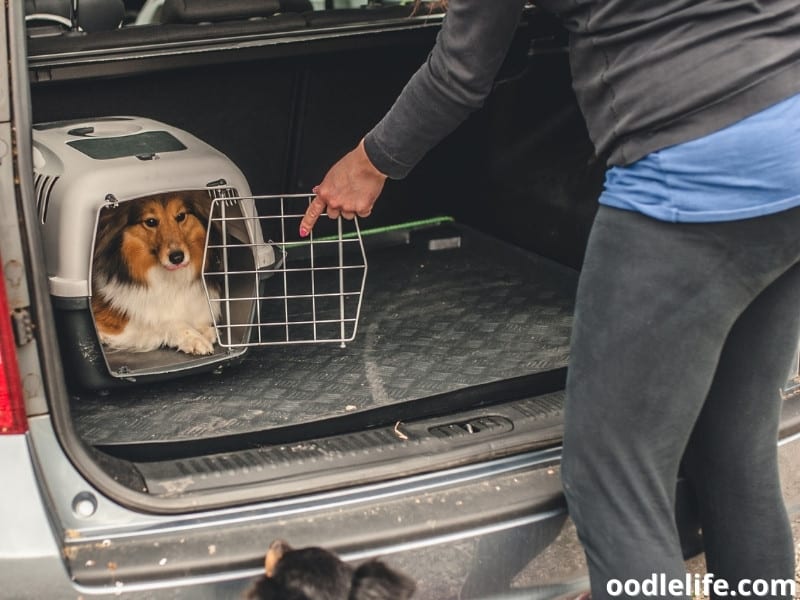 There are so many crates on the market that it can be overwhelming to choose. Below are the top 3 dog crate brands of 2022 for safety and comfort, along with our top pick for each brand.
Gunner Kennels was founded in 2013 by Addison Edmonds, who named the company after his chocolate Lab, Gunner. Edmonds wanted to find the best kennel for his dog, but when he couldn't, he decided to build it himself.
All Gunner Kennels are sourced and manufactured in the US, have a four or 5-star safety rating, and are crash tested. They are one of the most expensive travel crates on the market due to the extensive testing and the 125 parts required to assemble each crate.
The G1 Kennel has a size option for dogs small to large, is 5-star safety certified, and is double rotomolded. It offers 2x impact protection and a lifetime warranty. We can say, without question, that this is the top-of-the-line dog crate for car backseat.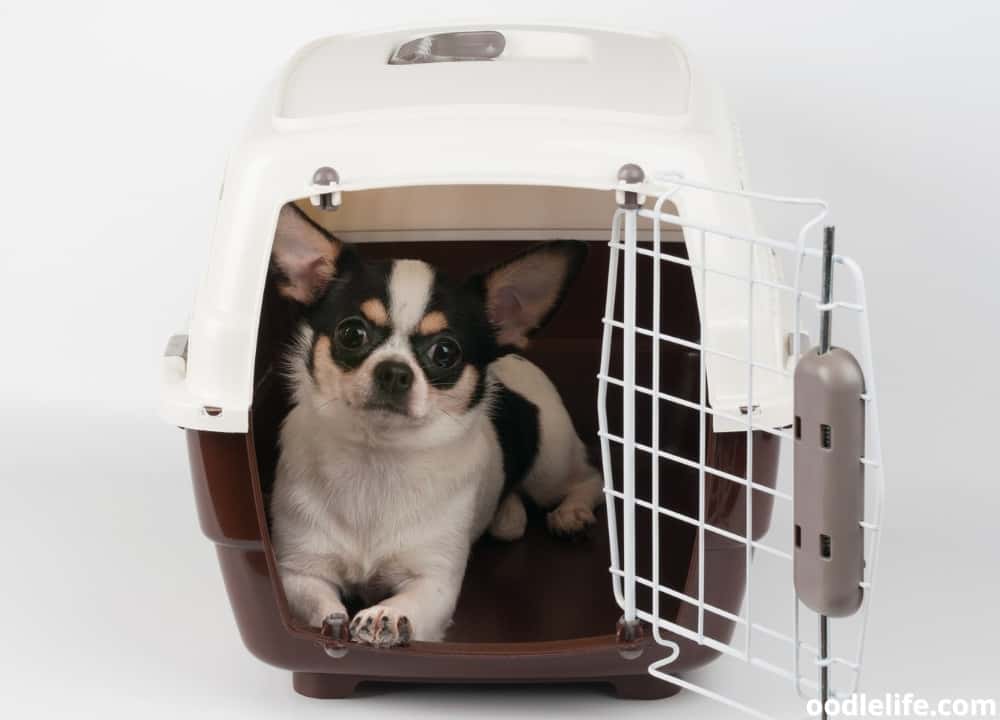 Lucky Duck was founded in 1995, focusing on Duck and other fowl hunting needs. For many, this means a safe way to transport their hunting dogs. Lucky Duck's kennels are 5-star safety certified and made here in the US.
They are well ventilated, easy to clean, and can withstand up to 4,000 pounds of force.
The Lucky Kennel is more lightweight than it seems but still highly durable. It has convenient handles and non-slip rubber feet for transporting your pet easily. It also has a pitched floor that allows water or other liquids to drain quickly and a reversible door for easy access.
Lucky Duck Kennels are proudly made in the USA, and are built for years of use. 5 Star Crash Test Rated from the Center For Pet Safety.
One-piece roto molded kennel is durable yet lightweight (38lbs.), and includes heavy duty lift handles, powder-coated tie downs, and non-slip rubber feet
Well ventilated with ventilation holds to keep your dog cool on hot days, and pitched floor is elevated to run water into drain channels on each side of the kennel
Injection molded reversible door can be flipped in a matter of seconds, corner locking pins for added safety, and the locking paddle latch will keep your dog safe while only requiring one hand for opening and closing
Exterior dimensions: 32.5″ x 22.5″ x 24.5″. Interior dimensions: 30.25″ x 20.5″ x 22″
This kennel is one of the best backseat dog crates on the market.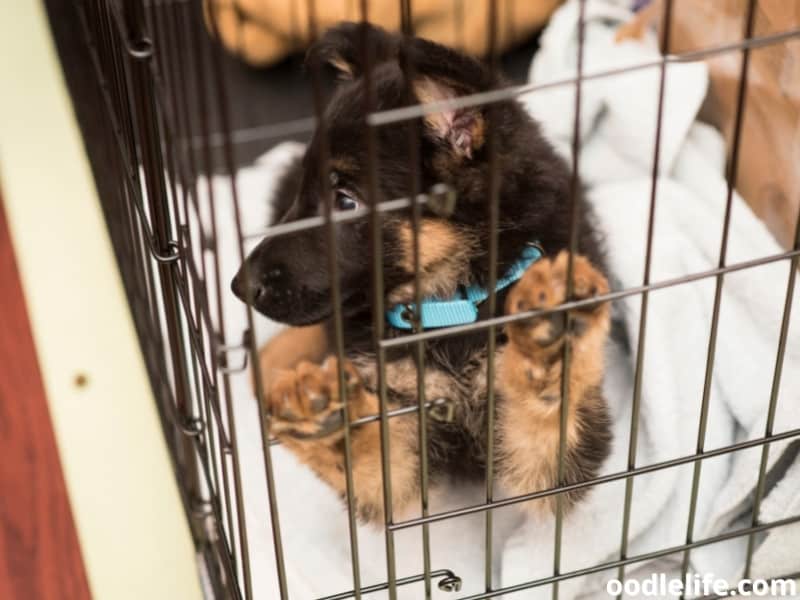 EliteField Pet Products has been around since 2004 and offers a wide array of good-quality products for many different types of pets. They pride themselves on comfort for pets and convenience for you. They offer soft, comfortable dog crates that can be good for travel.
The EliteField 3 Door Folding Soft Dog Crate is an affordable option for those who don't want to spend a fortune on a travel crate. This crate comes in many sizes but is best recommended for smaller dogs. The frame is made of steel, and the kennel is exceptionally well ventilated and lightweight.
Size: 42″ long x 28″ wide x 32″ high; 2″ wider and 4″ higher than most other brand 42″ soft crates, so the EliteField soft crate makes your dog feel more spacious; fully assembled; set-up and fold-down in seconds, no tools needed.
The crate frame is made of strong steel tube; the crate cover is made of high quality durable 600D fabric and hex mesh fabric; a well ventilated, stylish, lightweight and durable crate
Three mesh doors (on the top, front, and side) for convenience and for sunlight and breathability; two accessory pockets on the top and side; removable and washable cover and bed
Free carrying bag and fleece bed included; a handle and hand carrying straps on the crate, hand carrying straps and adjustable padded shoulder strap on the carrying bag allow for many carrying options; folded crate with just 3″ height for easy transport and storage
2 Year Warranty from EliteField, a New York-based Pet Product Manufacturer. The "EliteField" brand is ranked #1 under Amazons "Soft Dog Crate" category. This can be seen through searching for "Soft Dog Crate" on Amazon. Product Quality Guarantee, 100% Money-Back Guarantee, Customer Satisfaction Guarantee (See important information in "Product Description" section below)
It includes a bag with a padded strap so you can take this crate with you anywhere.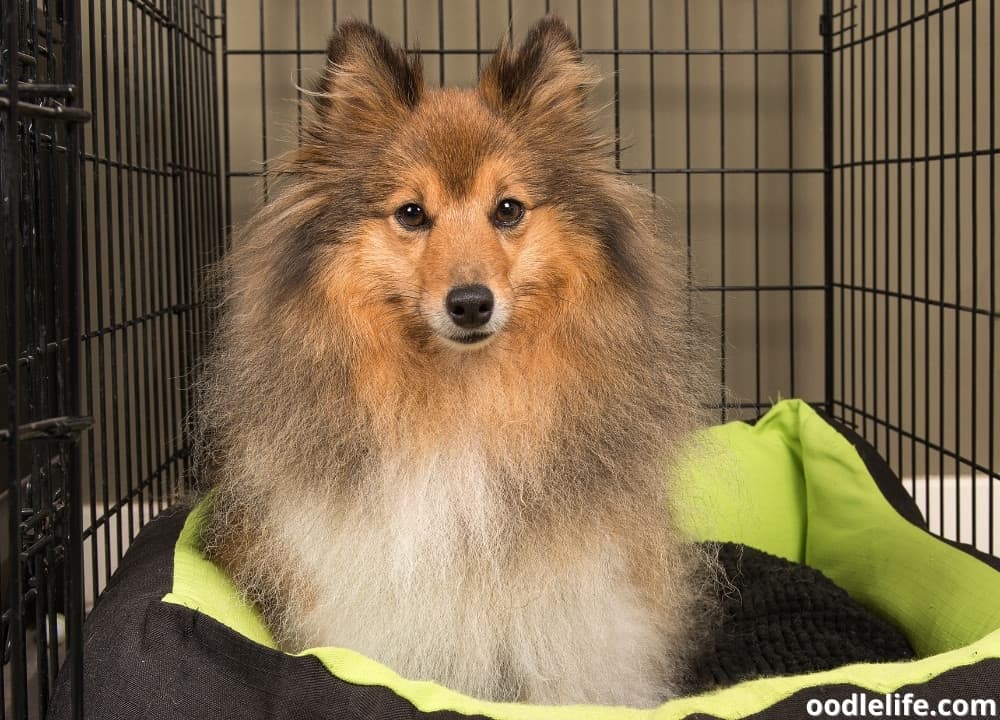 While traveling with your pet secured in a crate is the safest option, this may not be for everyone. Many other products can keep your pet secured and safe in your vehicle without placing them in a crate.
Despite seatbelts being mandatory for humans in many states across the US, our canines do not generally have that protection. There are many seatbelt options, such as a harness seatbelt, zipline seatbelt, or attachment belt. Many people do not even know this is an option, but it is!
The COOYOO 3-piece doggie seatbelt is a simple, inexpensive way to keep your dog tethered to the seat. It's comfortable and prevents your dog from being tossed around when braking harshly or in tight turns. In addition, the straps are adjustable, so you can decide exactly how much freedom fido has.
DURABILITY – No matter how well-trained your pup may be, there is no guarantee that it won't tug, pull, and chew on the seat belt during the ride. The material of our seat belt be extra durable, made of high density nylon fabric to ensure durability, and the metal elements of the construction to be sturdy enough not to unbuckle or snap at the worst possible moment.
ELASTIC BUFFER DESIGN – Restraint with elastic buffer could keep your dog from sudden brake or sharp turn, keep your dogs away from possible choking risk, allows pets active freely in certain space without the feeling of rigid control.
TANGLE-FREE & ADJUSTED – The dog seat belt can be easily adjusted from 22 to 31 inches. A sturdy, aluminium alloy clasp swivels 360 degrees to accommodate comfort in case he wants to sit, stand or lay down,so your dog can rotate and move around without ever getting tangled.
CONVENIENCE & UNIVERSAL FITTING – The universal design allows you to clip and unclip your pooch in seconds with no fiddling around.The tab on the seatbelt clip is 0.79 inch in width, which is compatible with most vehicles.Please make sure to check your buckles size and compatibility before order.
FREE GIFT & 100% MONEY BACK GUARANTEE – The dog seatbelt comes with a collapsible travel bowl for pet. our goal is to design premium quality pet supplies that make life easier and more comfortable for pets and their families.Your satisfaction is our top most priority.Contact us for refund or exchange if you are not happy with our product for any reason.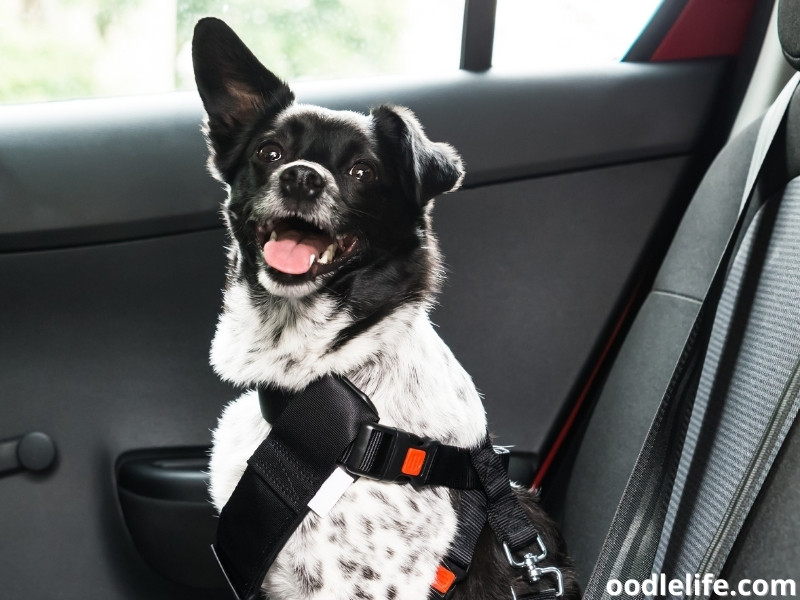 There is a wide array of size, comfort, and safety levels. For smaller dogs, keeping them safe can be as simple as putting them in a car seat, much like a child. Just be sure to check the weight limit before deciding if the seat is the right side for your dog.
The K&H Pet Products Bucket Booster Pet Seat is a plush comfortable option that your small dog will love. It attaches to the seat belt in your car and has additional straps that keep your dog firmly in place. In addition, the cover is removable and washable for easy cleanup of any accidents.
DOG CAR SEAT WITH A VIEW: Booster pet car seat elevates pet(s) for a better view, while the firm foam bolster around the edge keeps dogs in a safe and controlled spot for a distraction-free drive
SAFETY FIRST: Dog booster seat securely buckles in place with the seat belt hidden under the removable booster cushion (includes two adjustable security tethers attach to pet harness) and the bolster secures pet to the doggie car seat
EASY PET TRAVELING: Doggy car seat is great for small dogs as it dips down in the front so your pet can easily climb in and out for easy buckling up; Pet booster seat for car is perfect for small and medium dogs, puppies, cats and kittens
EASY CLEAN-UP: Removable, washable, plush quilted fleece cover ensures pet comfort and easy maintenance of dog car carrier
PET CAR SEAT SIZING: The contoured back is designed to fit snugly in the front or back seat of any size car: small bucket booster is recommended for small pets and large booster can fit up to two small pets or one medium sized breed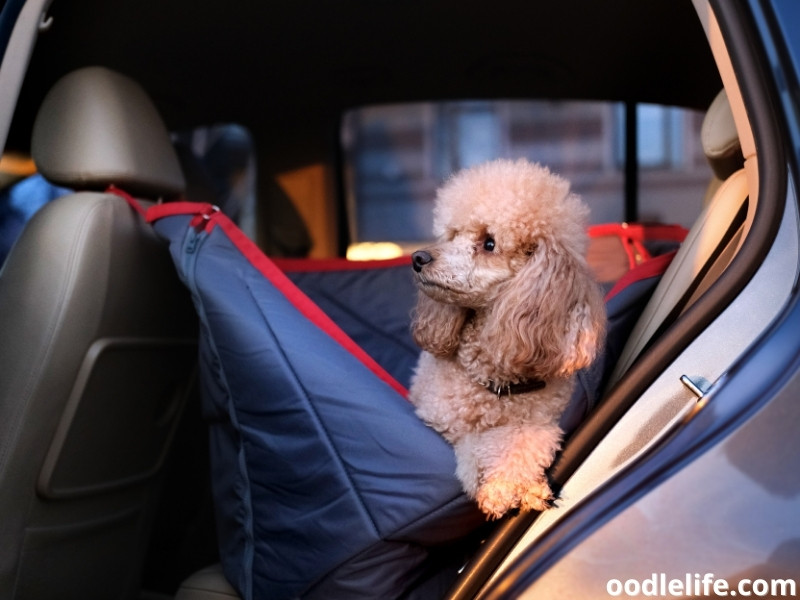 A durable pet barrier is an excellent option for those who want their dog to have more freedom while minimizing the risk of distraction while driving. You can place a pet barrier in the back seat or trunk area to prevent your dog from jumping over into an area where it shouldn't be. Several types of pet barriers exist, including plastic, metal, or mesh.
The PetSafe Happy Ride Metal Pet Barrier is a sturdy, adjustable pet barrier that fits almost any vehicle. The spaced-out bars allow you to watch your pet while ensuring they stay in their safe space. It is easy to assemble and disassemble, with no tools required.
DECREASED DRIVER DISTRACTION: The metal dog barrier keeps your furry friend from inviting themselves into the passenger seats so you can focus on the road
NO TOOLS NEEDED: Easily assemble the metal barrier with just your hands
SIMPLE TO SETUP: Tension secures the barrier in place and rubberized caps keep it from slipping during use; rattle-free design of the metal barrier reduces noise on road trips
ADJUSTABLE SIZING: Slide the dog barrier to adjust it to fit backseat or cargo areas in your car or SUV; measures 32-49 in H x 33-57 in W
BACK SEAT VISIBILITY: Sturdy, metal barrier allows you to have clear visibility into the back of your vehicle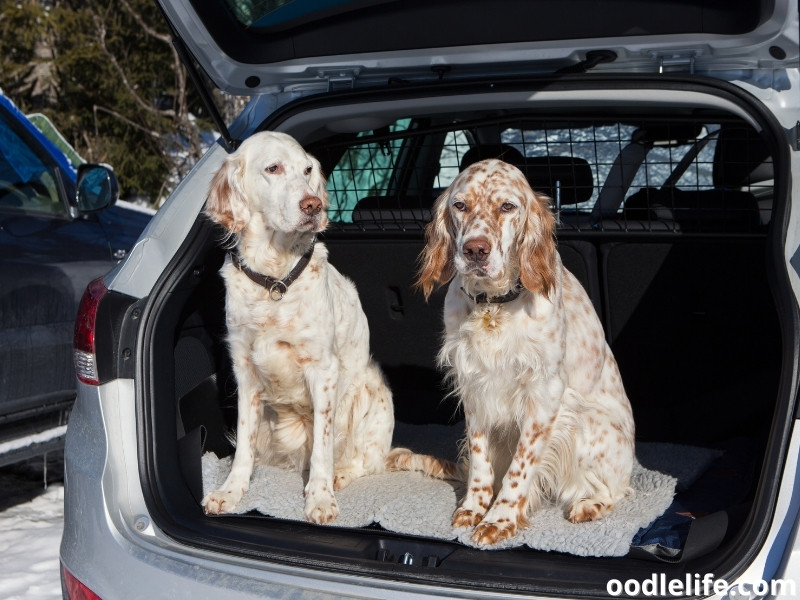 The best dog crate for car backseat
If you decide that a car crate is the best type of protection for your dog and your family, you will find that there are so many options out there. Here are our best picks for dog crates for your car:
Safest dog crate for car – Crash tested dog crates
This crate is a portable travel crate and carrier. This specific design can fit dogs up to 30 pounds and is the only crate on the market that is double walled and rotomolded. This makes it one of the best means of protecting your dog in the car.
It is also the most durable crate out there and is the only 5 Star Crash Test Rating recipient from the Center for Pet Safety. This is especially impressive due to the fact that 85% of all products initially tested by the organization failed the test completely.
They know how important our pets are and so they created this crate that is able to safely protect your pet during a car accident.
This crate is very durable, allows for proper ventilation, helps block the sun in the car, and is escape proof against even the most "professional" of doggy escape artists. The crate also has chew guards on the steel bars, which is important for any pet owners of dogs with a high chew drive, or dogs who experience anxiety in the car.
These crates were designed to last a lifetime and even come with a lifetime warranty. All of the stainless steel is rust proof.
For easy cleanup, there is a recessed floor and a drain plug in this crate. This crate has wheels and handles, making transportation of the crate very easy and painless.
Best dog crate for backseat of truck
This crate has durable mesh sides which allows your dog to be able to see you while in the car, which is good for dogs with separation anxiety. There are also multiple exits in this crate. This is good in case you need to be able to easily remove your dog from the backseat of the car after an accident.
This carrier can fold flat, which makes for easy travel. It is also very easy to install, with the only thing that you need to do is buckle it up with the seat belt.
Additionally, the soft and comfy mat of this crate is easily removable and machine washable, making for easy cleanup.
This crate can be purchased in three sizes, but we recommend that if you decide that this is the best crate for your dog, to opt for the biggest size option. This is the biggest soft shell pet carrier suitable for the backseat of a car. You can safely secure this carrier with your car or truck's seat belts.
Back seat carrier for dogs
This crate creates a cozy spot for your dog to rest safely in the backseat of your car. There is a durable gate on both sides which will keep your dog safe in the car, but there is also mesh paneling that allows for your dog to be able to see out and to be able to see you.
This crate also includes an adjustable security leash that you can easily connect to your dog's harness. The crate comes in a grey polyester fabric and measures 45 inches long, 17 inches wide, and 18 inches tall.
To make sure that your dog stays safely where they are supposed to be, this crate has straps that go around the headrests for safe traveling and loops that you can also put the seat belts in through.
This crate was designed to last and folds up easily for storage purposes.
This crate is only recommended for dogs who are already crate or kennel trained.
Crash tested double dog crate for car
This crate has passed front, rear, and roll over crash tests. The MIM Variocage has had a proven track record of keeping pets safe in Europe for nearly 10 years.
You can get this crate in small, medium, large, X-large, XX-large, and max sizes, and the crates can be adjusted to 14 different sizes. This is great because you can get whatever size you need for your dog and for your car.
The doors of this crate lock, but there is also an emergency escape hatch for extra safety.
If you have two dogs and are looking for a crate that can protect both of your fur babies in the car, then this is the best crate because of the Double feature. The Double version features a moveable divider in the center so that two dogs can share the same crate. If one dog is larger or needs more space, you can slide the divider over so that both dogs can be comfortable.
The bottom of this crate has a rubber carpet which makes for extremely easy cleaning, but is also comfortable for your dogs.
In the case of an accident, this crate has been proven to be able to withstand impacts during all types of collisions. This crate will keep your dog safe, reduce the chance of injuries to your dog, and will prevent them from becoming a projectile.
Connectable dog crates for car backseat
This is another great choice if you have more than one dog. These carriers can be used in three different ways.
You can keep the carriers connected but have the divider up to keep your dogs separated. You could also unzip the center zipper, which turns the carrier into one large case that they can both share. Lastly, you can detach the carrier so that it forms two single carriers.
This kennel has built in straps that allow for you to secure the crate with the car seatbelts and there are multiple entrances into the crate. The carrier can be folded flat in seconds and the pad on the floor is removable and washable.
This carrier is lightweight and has mesh doors so that your dogs can look out. The size of the Double is 20 inches by 20 inches by 39 inches. This carrier also comes with an additional hammock that can be put into the carrier for your dog's enjoyment.
This product was created by One For Pets Inc., a company created specifically for creating safe pet travel solutions.
Best on a Budget: Jespet Travel Crate
Size: 26"L*20"W*20"H; Foldable and Lightweight Pet Crate make it easier for outdoor travel. All…
Three Entrances Door (Top, front and side) for convenience sunlight and breathability; Ample Ventilation…
Our budget option has everything you need in a crate for your back seat without breaking the bank.
Just like our best overall pick, you'll find a sturdy steel frame that could help improve the overall safety potential. You'll also find comfortable, breathable mesh sides to help keep pups comfortable. The folks at Jespet also throw in a nice fleece bottom to help keep your dog extra comfy.
It's easy to put together and does fold down but it's not quite as easy to break down and build out compared to our best overall. Instead of folding into one piece, it works best when you separate the fabric exterior from the steel frame and fold from there. For some folks, that's a deal-breaker. For others, it might not be a big deal at all which just makes this budget-friendly option more appealing.
As with our other back seat-friendly crates, we've got 3 different ways to enter which make it easy for dogs to hop inside.
This crate is also missing a dedicated mechanism for attaching it to the seatbelt or headrest. While that is a downside, it's one of the compromises you'll need to consider in just about any budget-friendly option.
You can check the latest price and learn more on Amazon by clicking here.
What I Love: Even though this crate is made of mesh, its frame has steel bars that can increase the safety potential.
What I'm Not a Fan Of: I'd love to see an option for attaching this crate to the seatbelt or headrest in the back seat.
FAQ
Can you put dog crate on backseat?
To secure a plastic kennel, place the kennel on the back seat behind the driver seat or passenger seat. Do not place the kennel in the middle seat. Grab your car's seatbelt and pull it around the length of the kennel and buckle it. Make sure your seatbelt is locked so that the kennel does not slide when you make turns.
Should a dog be in a crate in the car?
It is recommended to keep a crate in your car for the dog, complete with the bedding, so the crate is always ready to go. The crate should be in the back if you drive an SUV, or safely in the back seat of your car, never in the front seat for the same reason you don't put children there.
How big should my dogs car crate be?
The most common solution is a doggy seat belt or harness (a regular seat belt won't fit them). With the right dog car harness, you can keep any size dog safely strapped in the back of your car. This should also keep them from hanging their head out the window.