Health Check
If your dog was already housebroken and has started urinating inside the house, you need first to rule out any medical or emotional issues. Talk to your vet if you're concerned about your dog's wellbeing. Your vet will check for kidney disease, bladder stones, and diabetes in your dog since these conditions cause frequent urination.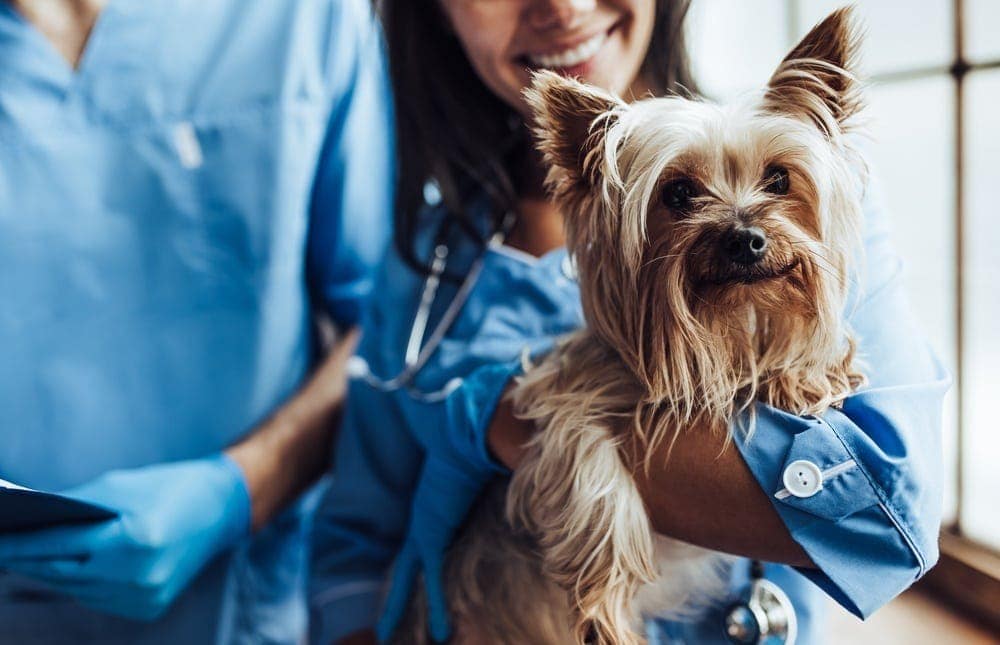 Shop Care Super Enzyme Pet Urine & Odor Destroyer – Best Value
| | |
| --- | --- |
| Cleaner Usage: | Hard surfaces, carpet |
| Additional Features: | Stain remover, biodegradable and non-toxic |
Shop Care Super Enzyme Pet Urine & Odor Destroyer is a more affordable option and the best dog pee repellent spray for the money you pay. It's meant for public and commercial use, so it can tackle a wide coverage of space. You can also use it to deodorize garbage bins.
The formula contains enzymes to break down stains and odors. It works on all kinds of surfaces including carpets, bedding, furniture, pavements, walls, and artificial turf. It's also biodegradable and non-toxic, so it's safe to use around pets and young children.
It's recommended to use this product daily to help break down the cycle of urine marking on the same spot. So, it'll take multiple tries to fully prevent dogs from peeing in unwanted areas. You'll also have to test for colorfastness because the formula may cause some colors to fade. Therefore, test in a small area before cleaning up a large stain.Pros
Affordable option
Versatile uses
Biodegradable and non-toxic
Cons
May take daily use to prevent dogs from consistent urine marking
Oranges, tangerines and other citrus fruits
If you dont have a lemon at home, you can opt for other types of citrus fruits, such as oranges, tangerines, limes or grapefruit. Follow the same dog repellent spray process as above. First squeeze the fruit to extract 100 milliliters of juice, then mix with 50 milliliters of water and a spoonful of baking soda. Spray onto the already cleaned area and let it act.
For more, read our article on how to get rid of dog urine smell.
If you are wondering how to keep a dog to from pooping in your yard or home, white vinegar might be your answer. This ingredient has disinfectant properties which are accompanied by a strong smell, so it is commonly used as a household cleaner and natural dog repellent.
To stop dog peeing in house, mix one part hot water with one part white vinegar in a sprayer. Spray the area with the repellent and leave for 30 minutes. Repeat the process if necessary. This can provide a vinegar smell in your home, so it is not ideal for upholstery or other fabrics with which you may be in close contact.
For more, read how to keep a dog from pooping in your yard.
Antiseptic alcohol is commonly used to disinfect wounds and is incredibly effective thanks to its powerful antibacterial properties. In addition, it has a strong smell that is unpleasant for both people and dogs. Although it is homemade, if you choose this option, you should know that it is not a natural dog repellent. Your dog will not likely want to lick it, but do not let them have access to any significant amount.
To keep your dog from peeing inside the house, spray alcohol mixed with water onto the specific area. If your dog is peeing on plants, do not spray this repellent directly onto the plants, but rather onto the pot. However, the smell of alcohol is not necessarily good for indoor use. It may be more effective as a dog repellent for the yard.
FAQ
What scents deter dogs from peeing?
Sharples and Grant Clean & Tidy Don't Pee Here Deterrent Spray 500ml Discourages pets from urinating in unwanted places, natural mustard smell keeps pets away. The initial unpleasant odour disappears in a few seconds to leave a long lasting action where it is applied, for indoor use only.
What can I spray to keep my dog from peeing and pooping in the house?
The Top 5 Smells Dogs Hate to Pee On
Citrus. The citrus smell is arguably the best dog repellent there is. …
Vinegar. Just like citrus, dogs cannot stand the smell of vinegar. …
Chili. Hot chili is a popular dog repellent. …
Alcohol. Dogs hate the smell of alcohol. …
Coffee Grounds.