If you want a happy, healthy dog, knowing how to trim your dog's nails is vital. But giving your pet a pedicure can be intimidating at the best of times. Luckily, help is at hand. This beginner's guide to well-trimmed pet's nails covers all the basics, from how to prepare Dremel's electric pet nail grinder to paw handling and what angle to work at. You'll learn how short you can go without hurting your pooch, giving you some much-needed confidence while grinding. Go on, have a go and discover that perfecting your pet's nails doesn't have to be stressful.
Best Diamond Dremel Bit for Dog Nails
Groomers Best Friend Diamond Rotary Nail Grinder Bit – Painless Nail Trimmer Bits Wont Pull Hair or Get Hot – Bit Size Large
SMOOTHER EDGES – An essential tool for professional groomers and pet-owners alike to achieve perfectly smooth nails. Large bit is ideal for dogs 30 lbs+.
FITS MOST ROTARY TOOLS – Use with the rotary nail grinder tool of your choice, including the Diamondg and Dremel brands
QUICK TRIMMING – The proprietary shape of our trimmers painlessly removes just the right length from the bottom nail tips and sides at the same time. They also come with a fine tip for polishing.
PERFECT FOR ANXIOUS DOGS – These diamond nail grinder bits run cooler than typical sanding drums for unparalleled comfort and no-jitters paw grooming. They will not wear out or overheat.
LIFETIME WEAR WARRANTY – Our heavy-duty diamond nail rotary grinder is recommended by the members of Groom Team USA. If you are not satisfied, contact us and we will make it right for you!
U-shape rounds nail edges as you grind them down
Great for small dogs
Somewhat less vibration – can be better for dogs that don't like grinding (See training article on this)
Doesn't hurt as much when you accidentally hit a knuckle or your dog's feet
Cool – Doesn't get as hot as other sanders
Super smooth nails
Doesn't snag hair
Need to apply more pressure than when using a sander
More expensive than sander options
Sale Andis Nail Grinder Replacement Accessory Pack, Multi, 5.75 x 0.50 x 4.00 inches (65920)
Two sizes of sanding drums and bands make it easy to use on any size dog or cat breed
Finishing stone for final shaping and a smooth finish
The easy and quick stress-free way to give your pet a perfect pedicure
Smoother, rounded nails keep your floors and furniture safe from scratches
No more cutting into the quick or rough edges that occur with nail clipping
Multipack with lots of options for different types of dog nails
Since it's a multipack the whole thing lasts longer than individual bits
Great for dogs that can't tolerate nail clippers (must be trained to grind though)
Multipack downside – you can't use all the sizes on the same dog! Well, you can but it takes more skill. Some sizes just aren't as easy on certain nail sizes and you may waste those.
Takes practice – True of all open grinders without guards. You have to be extra careful not to touch the other dog's toes. Dremels move fast and sanders can do damage. See the diamond option above for easier-to-use bits that don't hurt as much when you accidentally hit other toes (or your finger).
Best Dremel Drum Sander for Dog Nails
Power Tools and Accessories
Country of manufacture: China
Manufacturer: Dremel
Ideal for rough-shaping and smoothing wood and fiberglass
Removes rust from metal; shapes rubber surfaces
Lasts longer than discs or thin drum sanders
works wonders on dog nails
standard good quality Dremel tool
Just comes with one drum sander (not a multipack); however, these last longer than expected
Check the model of this drum against your Dremel and make sure they are compatible!
Was My Friend an Animal Abuser?
One night while on a phone call with her, she complained to me about how the scariest part of motherhood so far had been having to clip the baby's fingernails.
She was terrified she would clip the delicate skin around her baby's nails causing him to bleed. My thoughts instantly turned to the sense of dread that filled me each time I had to cut my dog's nails.
She laughingly said, "I wish I could just use the Dremel on the baby like we do the dog." To which I relied, my voice full of shock and horror,"You do WHAT to your dog!?!"
Then she told me how she uses her Dremel to grind her dog's nails.
I sort of already had an idea of what a Dremel was. I'd seen one used before to notch out some trim around a door on a new floor install and to cut through some metal once, sort of like in the picture.
See those scary sparks? I figured it was basically a tiny power saw.
"So you guys use an electric saw to groom your dog? It just seems a bit…dangerous."
"Girl, no! My husband even uses our Dremel to 'exfoliate' the calluses on his feet! It's all about which bit you use."
That set her off on a 20 minute spiel about the wonder tool that is her Dremel and how much it had changed her life (and her dog's) for the better.
By the time our conversation was done, I was completely on board with the idea and encouraging my friend to get herself a job in sales somewhere.
For those of you that may not already know, let me tell you exactly what a Dremel is. Simply put, it's a rotary tool.
There are lots of different ones available on the market. Dremel is just the name of the company that happens to make one of the most popular ones.
"Rotary tool" just means the bit you put in the tool rotates and quite rapidly at that. That's essentially all the Dremel itself actually does.
Is Your Dog Driving You Nuts During the Day?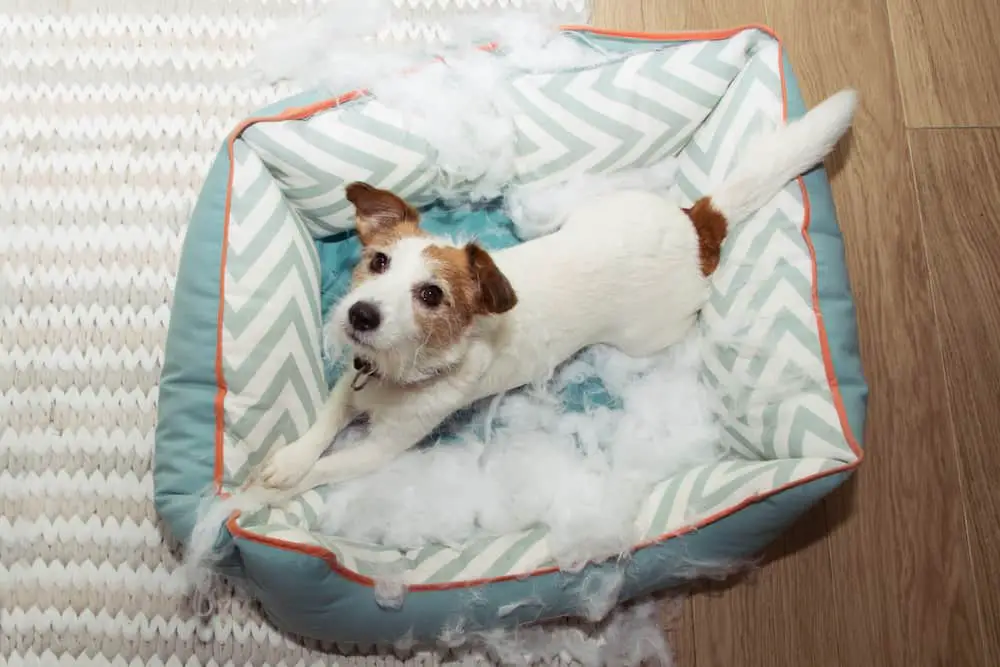 Get Our List of 11 Awesome Indoor Activities to Keep Your Dog Busy and Out of Trouble!
It's the different bits and attachments that do the real work. Check out the Dremel website to browse through hundreds of awesome projects you can do with a Dremel.
Dremel has attachments for:
Carving
Cleaning
Cutting
Drilling
Engraving
Etching
Grinding
Polishing
Sanding
Sharpening
Trimming
Materials such as:
Aluminum
Bookboard
Ceramic tile
Glass
Leather
Mirrors
Plexiglass
Polymer clay
Steel
Stone
Wood
Apparently Martha Stewart uses a Dremel to make earrings. Thanks to my friend dropping some knowledge, I got one and now use mine for grooming my dogs' nails along with about a billion other things.
They actually make a special model of Dremel for dog grooming.
The only major difference between a regular Dremel and the one made for pet's nails (besides the little blue paw print on the front) seems to be the accessories that are included in the box.
The Dremel 7300 N/8 Mini Mite 4.8 is virtually the same thing, except it comes with additional accessories for uses other than trimming pet nails.
So If you already own a Dremel, you can just purchase the 1/4 inch Dremel sanding bands to use to file down your dog's nails.
FAQ
What Dremel bit to use on dogs nails?
A Dremel grinds down your dog's nails, making trimming easy and high-tech. The Dremel is the easy part. Getting your dog used to the feel of the vibration and the sounds of the tool may be a little tricky.
How do you cut a dog's nails with a Dremel tool?
Stay between 10,000 and 15,000 RPM for the speed of your Dremel. Touch the Dremel to the nail to sand for 1-2 seconds, retreat, touch again, repeat. Never put pressure on the nail when sanding. Never leave the sander on the nail for more than 1-2 seconds at a time.
How long should dog Dremel nails be?
Stay between 10,000 and 15,000 RPM for the speed of your Dremel. Touch the Dremel to the nail to sand for 1-2 seconds, retreat, touch again, repeat. Never put pressure on the nail when sanding. Never leave the sander on the nail for more than 1-2 seconds at a time.