Our Recommended Rubber Mat For Pet Use
Excellent durability
Holes throughout the surface provide drainage
Commercial mat that is easily cleaned using common commercial equipment or industrial dishwashers
Perfect for a rubber entry mat or rubber kitchen mat
Raised bar design offers extra gripping action for anti-slip
Note: It should be noted that this is a temporary fix only and a more permanent method should be put in place in the long run.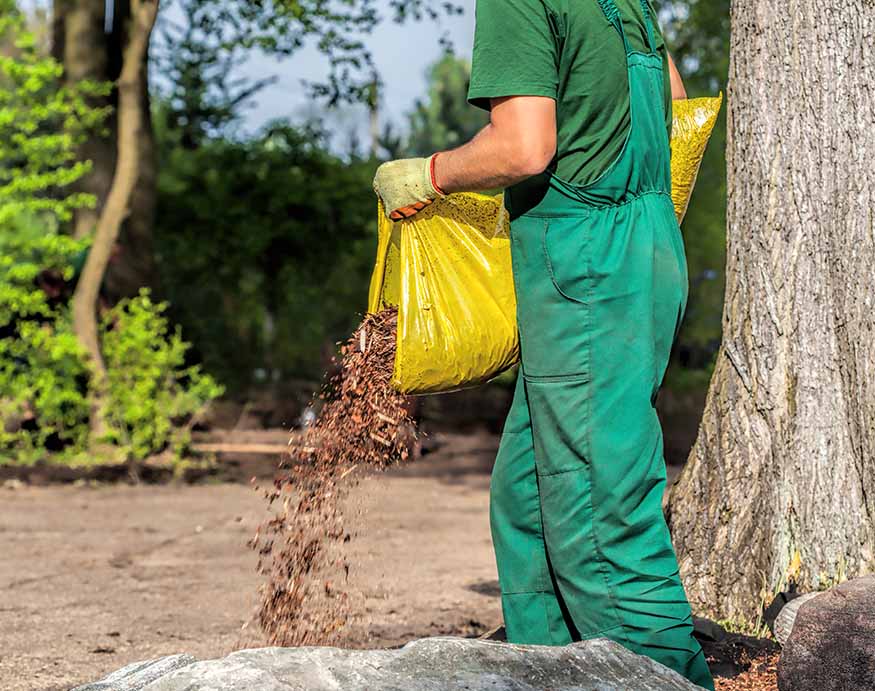 Pine flakes or Wood Chips to fix a muddy yard are a new addition to our list, but I can't believe it took me this long to add it! It is such a great solution.
You can place a thick layer of pine flakes on the muddiest parts of your lawn in the winter when your lawn is at its muddiest. Towards the end of winter, the pine flakes will decompose and actually provide a fertilizer for your lawn.
Pine flakes are quite soft when in a good thick layer, and they are also reasonably kind to your dog's feet.
And the best bit? Your dog won't get filthy dirty when playing outside!
If you are shopping for pine flakes, make sure you get the type called 'flakes' or 'wood chips' and not 'shavings'.
Concrete poured in the dog run or over the paths in the yard may seem like a quick fix. However, concrete can be expensive depending on the area the owner intends to cover. The shock of the initial expense can be lessened by knowing that concrete will last for many years and generally will not have to be replaced like other ground coverings.
It can also be uncomfortable for dogs as it will retain cold in the winter and heat in the summer which can result in damage to the dog's paws. Paw damage and infection can also occur if the dog constantly runs on concrete and not any other surface.
On the plus side, it is fairly easy to clean by scooping up feces and washing the area down with a hose and can also be disinfected if your dog is sick.
Owners who do decide on concrete will want to consider a raised area for a softer surface or bedding for their dog to rest on.
If there is a fairly large budget for the dog run or yard, then artificial grass designed specifically for dog parks is a good option. The grass is designed to let urine pass through so that it does not puddle.
It is very similar to natural grass and is soft and comfortable for your dog to run and play as well as take a nap on.
However, this is not in the budget for most owners. Natural grass is also an option and can be put down as sod or grown from seed. However, if you have a persistent digger, the grass will not survive.
Grass is best used for large areas where the dogs have a larger area to roam and more choices of places to urinate. Natural grass will not survive large amounts of urine over a long period of time.
Extra lush synthetic grass
Realistic look
Designed to last
Low maintenance
Drainage holes
Related Article: Check out our post on the best grass for dogs.
Kennel decking is an option as well. This material is available in interlocking sections and can be fitted to any size dog run.
The decking is designed to sit above the ground so that it drains easily and can be cleaned without a lot of hassle.
Most kennel decking brands are chew proof, weatherproof, and resist bacteria which prolongs the life of the flooring in the dog run even if your four-legged family member is an aggressive chewer or you live in an area with extreme temperature fluctuations.
Resists Mold, Mildew and Bacteria
Elevated and Dry
Fade Resistant
Easily Expandable
Quick and Cheap Ways To Temporarily Reduce Dog Mud In Your Yard
Straw was our go-to cheap and easy fix for many seasons.
I would get a bag of it from a local feed store and spread it out in the deepest mud areas.
The pros of straw are that it's cheap and easy to put down.
The cons are that, depending on how muddy your yard is, it won't last long and it gets tracked into the house.
Straw is also is known to harbor bacteria and smells when urinated on regularly.
You'll have to rake it up and throw down new straw throughout the muddy season.
And don't let your dog eat it as a snack because if a dog ingests large amounts of straw it can lead to an intestinal blockage and no one wants that!
Different Ways to Fix a Muddy Dog Trail
Every problem has the main solution and other methods that can be used to fix a problem. When it comes to your dog's muddy trail, you might want to start by checking out your drainage system and extending the drainage pipes to prevent stagnant water in your backyard.
Speaking of other ways, there are also different solutions for muddy trails in a big or small backyard (or lawn). We will discuss methods to fix a muddy dog trail in a small backyard and a large backyard.
Some of these solutions are temporary while others are permanent, some are affordable, and others are expensive; there are even ecological friendly ways to cover up a muddy dog trail.
Muddy dog paws fix: Muddy backyard fix with dogs: pine flakes in backyard
We love our dogs, but they're not the cleanest animals to have around. Are there ways to keep your home mud-free while owning a pack of lovable hounds? Here's how to fix a muddy backyard dog trail to maintain a clean house while keeping your pets active and happy.
With dog obedience classes, you can socialize your mutt, but even the most well-behaved canines traipse mud and dirt inside after a walk or a roll-around in the yard. This especially comes into play if you've trained your dog to sleep outside or they spend a lot of time outdoors.
This article looks at muddy dog yard solutions so that you don't have to sacrifice your home for your beloved four-legged companions anymore.