This post may contain affiliate links to our partners like Chewy, Amazon, and others. Purchasing through these helps us further the A-Z Animals mission to educate about the worlds species..
Iams is one of the oldest and most popular brands of dog and cat food on the market that aims to provide healthy foods for your pets by ensuring that each batch of food is high in quality and nutrition. The Iams pet food companies' belief is that advanced nutrition in the industry leads to innovation and improvement of the quality of pet food worldwide.
This brand was founded by Paul Iams in 1946 and has since expanded its brand. Paul Iams was an animal nutritionist who had a goal in mind to create pellet-based dog food that contained animal-based protein making this brand one of the first to create a carnivorous diet for dogs. In 1969, Iams then released a new range of products under the name Eukanuba, and the company was then sold to Mars Inc. in 2014.
As pet lovers, it is important to understand the different pros and cons along with any other necessary information about a certain brand before you decide to feed their products to your dog, which is why we have carefully researched the Iams pet food brand so that you can get more insight as to what the brand stands for and the quality of the products they produce.
Iams pet foods sell a wide range of different products and include an all-natural line of products, along with dog foods for all life stages (puppy/kitten, adult, senior), and veterinarian-based recipes. Most Iams dog foods are protein-based, however, they also use a lot of by-products and fillers such as corn in their ingredients.
The Healthy Naturals line from this brand seems to offer the highest quality nutrition out of the dog foods this brand sells when it comes to the benefits of the ingredients and nutrition. Over time after Iams had established their protein-based dog foods, they then extended their range to cats as well. Iams has a variety of different dog and cat foods which each have specific ingredients to target specific health conditions your dog or cat may have.
Iams ProActive Health Adult Healthy Weight Dry Dog Food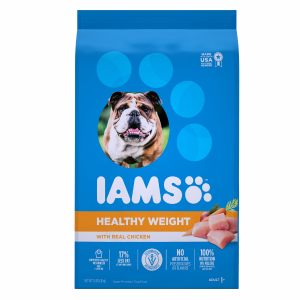 WHY YOU SHOULD BUY
Low-fat and low-calorie kibble is an excellent choice if you want to stop your pooch from gaining more weight and return him to his lean and energetic self in a few short months.
Use Iams weight control dog food to help your pooch become lean and active again after too many days on the couch and a treat or ten every day. Instead of reducing serving size, you can stick with low-calorie kibble that comes with reduced fat and just enough protein to support muscle tone. The L-carnitine supplement doesnt hurt one bit, as it encourages healthy metabolism and speeds up fat oxidation to return your pup to a healthy weight in no time flat.
For all its advantages and positive reviews, the first ingredient in this kibble is whole grain corn. Even when ground, it doesnt bring much nutritional value to the table, and it is often considered a filler, though Iams claims this product comes with 0% fillers. If you give this kibble a try, keep an eye on your poochs reaction to the grain-heavy formula. Though fiber promotes trouble-free digestion, some canines can come down with allergic reactions.
KEY FEATURES:
Calories: 326 kcal/cup
Crude protein: 20% min
Crude fat: 9% to 11.5%
Crude fiber: 5% max
First 5 ingredients: Ground Whole Grain Corn, Chicken By-Product Meal, Ground Whole Grain Sorghum, Chicken
SPECIFICATIONS:
Type: Dry food
Breed size: All breeds
Life Stage: Adult
Weight: 7, 15, 29.1 lb bags
WHAT WE LOVED:
Reduced fat content to promote weight loss
Lower caloric value than other Iams products
L-carnitine promotes healthy metabolism
Zero artificial preservatives and flavors
WHAT WE DIDN'T LIKE:
More corn than chicken inside
Transition to new kibble may be challenging
After looking at the top choices of all of IAMS varieties, we have given IAMS a 4.8 out of 5 stars!
There's a ton of great information in a short 3-minute video from a trusted retail site that sells thousands of pet products/foods daily!
The ingredients in IAMS dog food including grain-free dog food include essential vitamins and minerals like potassium chloride, thiamine mononitrate, manganous oxide, and ground whole grain sorghum.
Reviews of IAMS dog food showed that dogs who ate IAMS were scratching less leading customers to believe that the vitamins and fatty acids included in the food were helping with skin and coat issues previously dealt with.
With this type of reputation, it is safe to say that the ingredients included and the formulas used are safe for your best furry friend!
What type of Animals/Breeds are Iams best suited for?
Iams is known for being the best budget for nutrition pet food because most of their dog and cat foods are relatively affordable for the type of nutrition the food can provide your pet. Most pet owners will choose Iams as pet food for their low prices and decent nutritional content. The volume of food you get for the price is much better in comparison to other pets' foods that are lower in quality for the same or slightly higher price.
Iams has a range of different pet food lines, but the proactive health line has formulas that are suitable for dogs and cats with certain health conditions. This can include foods that help cats with weight management, hairball control, and even urinary tract problems. The Iams proactive health line contains added fruits and vegetables into the recipes to provide dogs with vitamins and antioxidants, as most of the health condition formulas are targeted towards cats as Iams produces different pet food recipes for both cats and dogs.
Iams also produces recipes that are suitable for dogs and cats of different life stages. They have formulas available that can be specifically fed to kittens or puppies as the nutritional value and ingredients will be more beneficial to a growing and developing kitten or puppy than the adult or senior recipes will be. Iams most popular pet food is usually the adult versions, but they also have a senior recipe available from their pet food lines for both older dogs and cats.
FAQ
Is Iams good for your dog?
Healthy. One of the most well-known options, Iams' nutrient profile is pretty good when it comes to dog nutrition. The ingredients vary based on the kind of Iams that you purchase, but they tend to contain real meat and grain ingredients. SO THERE YOU HAVE IT!
Is Iams low quality?
Bottom Line. Overall, Iams seems to be good pet food for its affordability, even if they do produce average-quality pet foods that are slightly high in by-products and fillers.
Is Iams vet recommended?
This is a great option for pets who need to gain weight. Iams & Eukanuba. These popular brands have a wide variety of recipes with generally good ingredients. Their recipes can be a little more rich though, which might not be ideal for pets with sensitive stomachs.
What is the healthiest dog food in America?
Best Overall: Purina Pro Plan

Various formulas also include up-to-the-minute nutritional research, incorporating ingredients such as gut-health promoting probiotics, vitamin A and omega-6 fatty acids that can help promote a healthy coat.