Most people adore their furry animal companions, but they don't always love everything they do. Whether they're training a puppy, caring for an older pet, or gone longer than expected, the occasional bathroom-related accident can happen, which is often frustrating. Plus, if they urinate on your wood flooring, figuring out how to remove black urine stains from hardwood floors quickly becomes your only priority.
You can remove black pet urine stains from hardwood floors using several approaches. Applying everyday household items like hydrogen peroxide, vinegar, dish soap, or baking soda may be enough. For stubborn stains, you might need to sand it away or use wood bleach, enzyme cleaner, or a hand scraper.
Which option is best can depend on the size and age of the stain. If you need to figure out how to remove black urine stains from hardwood floors, here's everything you need to know.
WHITE VINEGAR AND GRAPEFRUIT OIL
Mix one cup of vinegar into a warm water-filled bucket and the add some drops of grapefruit oil to the solution to get rid of the odor. Scrub the floor with this safe cleaning solution, concentrating on the most prominent spots. As you scrub, the odor and stains should be disappearing.
Vinegar and Grapefruit Oil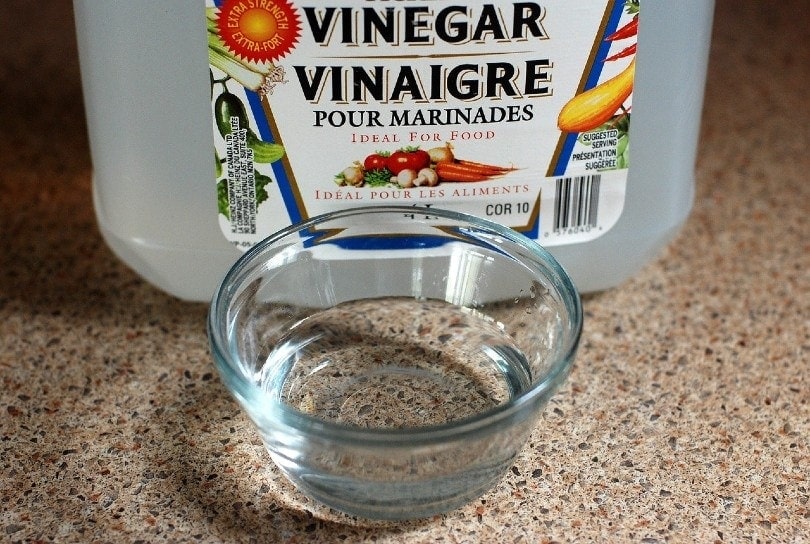 Tools Needed: Vinegar, grapefruit essential Oils, cleaning cloths, spray bottle
You can also use vinegar to clean black urine stains from your hardwood floors. Vinegar won't neutralize acids as baking soda does, but it will make it easier to lift tough urine stains. A few drops of grapefruit essential oils in the spray bottle will help make your cleaner more effective because of grapefruit's natural antiseptic properties. The smell of grapefruit or other citrus oils is also generally repellent to dogs and cats, making it less likely your pet will have a repeat accident.Pros
Antibacterial
Reduces the likelihood of repeat urinating
Cons
Slightly less accessible
Won't get deep stains
Might not catch all odors
++CTA++Pet urine stain removal from hardwood floors can be tricky, and many contractors will advise you to replace the floorboards. However, there is a much cheaper alternative to replacing your hardwood floors. In my case, the previous owners of my old home used the small bedroom at the front of the house to corral their cats while they were gone during the day. When I pulled up the carpet in that bedroom, I found a number of spots where cat urine had soaked through the carpet and pad onto the hardwood floor, leaving dark black marks and an overwhelming smell. Pet Stain Removal To remove the pet urine stains, I poured hydrogen peroxide directly on the stain, covered it with a hydrogen peroxide-soaked rag, and then covered that with plastic wrap and let everything sit overnight. In the morning, the black stains and odor were gone, and I was able to sand and refinish my floors. For smaller or lighter pet urine stains, you may not need to refinish all of the flooring in the room. In this case, make sure to pour the peroxide only on the stain, check the progress of the peroxide every ten minutes, and wipe up the excess as soon as the stain has disappeared. You can then sand if needed and apply touch up wood floor stain using a paint brush. Remember to go with the grain of the wood. Removing Pet Urine Smells from Hardwood Floors All three of my large dogs had accidents on our hardwood floors when they were puppies–it happens. If you are able to clean up a pet accident on your hardwood floors right after the act, its easy to simply wipe up the mess. However, there is usually a lingering smell. Many sites recommend spraying the area with a 1:1 ratio of vinegar and water in a spray bottle to remove pet urine odors. This has never worked well for me. Others have found success with Natures Miracle, but I have found that Urine Gone is the only cleaner that removes the odor and prevents puppies and kitties (as well as older dogs) from peeing in the same place. I have used it on carpet, tile, hardwood, and my couch with great success. Urine Gone does leave a musty scent behind. While it is much better than urine, I usually mop up with a nice-smelling and pet-safe cleaner. I recommend Mrs. Meyers All-Purpose Cleaner afterwards to leave my home smelling fresh (both the lemon verbena or lavender scents are lovely). Testing the Product Whatever product you choose, be sure to test a very small and hidden area of your wooden flooring before tackling all the stained areas. Though you may be anxious to tackle the stains, its best to be sure that the product is safe for your floors finish. Emily Ramphal Emily Ramphal is the owner of three German shepherds and an avid housekeeper. In addition to helping various animal rescue organizations, she works with several dog training groups. She holds a BA in English and works for an Internet company in California.
Vinegar and Soap
Tools Needed: Vinegar, dish soap, cleaning cloths, water
If the stained area is greasy or dirty, including dish soap in your cleaning solution can help break down grease and remove the last traces of the stain. Create a solution of 75% dish soap and 25% vinegar. Add warm water. Scrub the stain with a wet rag soaked in the solution, and then use a clean rag to rinse the soap away from the floor.Pros
Works on greasy and dirty stains
Easy and cheap
Cons
Doesn't work on all stain types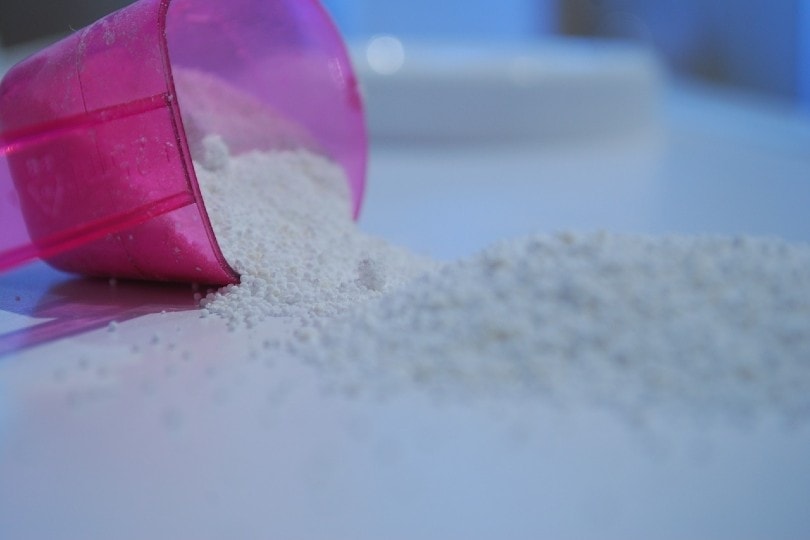 Tools Needed: Bleach, cleaning cloths
Bleach can also be used to clean and lighten dark stains. Rub a small amount of bleach onto the stain, and then wait a few hours for it to dry. Repeat with a second coat of bleach and then allow the stain to dry for a day or so. If the bleach has lightened the stain, you can bleach it a few more times. However, be careful as bleach may damage the finish and might interact with fresh urine to cause fumes.Pros
Lightens dark stains
May work on tricky stains
Cons
May damage finish
Usually requires several applications
Use caution when cleaning with bleach
Tools Needed: Enzyme, cleaning cloths, water
An enzyme-based cleaner uses natural or synthetic enzymes to break down messes like pet stains. Enzyme cleaners made especially for pet urine are formulated to break down odors and stains with minimal damage to your floors. They are a great step up from cleaners made from home ingredients. Although they are slightly more expensive than home cleaners, they are still pretty cheap overall.
If youre looking for an enzyme cleaner that does it all, we highly recommend the Hepper Advanced Bio-Enzyme Pet Stain & Odor Eliminator Spray. Yes, it's our product, but we love it so much, we have to share! Not only does it permanently remove the very worst smells and stains (yes, everything you can imagine!), but we offer a 100% satisfaction guarantee! Click here to get yourself a bottle.Pros
Breaks down urine easily
More powerful than homemade cleaners
Cons
Slightly more expensive
Not household materials
Might damage finish slightly
FAQ
Can you refinish hardwood floors with urine stains?
Old urine stains:
In a bowl, mix 10 ounces of 3 percent hydrogen peroxide, 3 tablespoons of recently opened baking soda (note: not baking powder), and 2-3 drops of dish-washing detergent. …
Pour into a spray bottle.
Pre-test the upholstery by spraying some cleaner in an inconspicuous place.
Allow it to dry.
How do you get dark stains out of hardwood floors?
Treat the affected area with a stain remover before refinishing. The heat of sanding and refinishing can bake the urine crystals into the wood and make odor and stain removal much more difficult if sanding and refinishing is done first.