With the red and white walls of Navajo sandstone towering 2,000 feet above you, hiking with your pet in Zion National Park is an experience you'll never forget!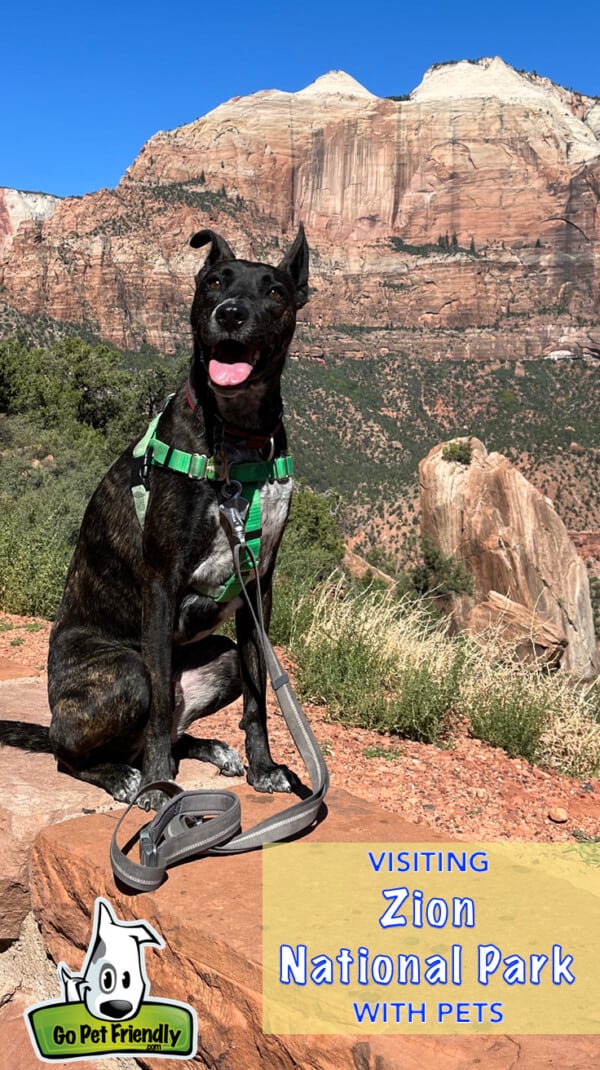 Zion was Utah's first national park. And as you walk along the Virgin River, looking up at massive sandstone cliffs soaring into a brilliant blue sky, it's easy to see why! But how much of Zion National Park can you see with pets? We did some paws-on-the-ground research to answer that question.
Located in southern Utah, not far from Bryce Canyon National Park and Dixie National Forest, Zion simply breathtaking. With elevations in the park ranging from 3,600 feet to 8,700, the park protects an astonishing variety of wildlife, plants, and breathtaking landscapes.
The best time to visit Zion National Park with pets is anytime but summer! The park saw five million tourists in 2021, making it America's 2nd most-visited national park. And in addition to the crowds, the summer temperatures at Zion can be downright dangerous. During our visit in late August, the highs on the canyon floor reached 104 degrees!
For a more tranquil visit, consider visiting Zion in winter. Whereas 550,000+ visitors descend on the park during the July peak, December and January each historically see around one-fifth as many people. And though it's the middle of winter, the daytime temperatures often reach a lovely 54 degrees — perfect weather for exploring with your pup!
For our RVing friends: Plan to arrive at Zion's South Gate. Coming in the east side of the park means passing through a historic tunnel. Nearly all RVs, buses, trailers, fifth-wheels, duel-wheel trucks, campers, and boats require traffic control, meaning the rangers must stop oncoming traffic for you.
Where Can I Find the Best Kennel Near Zion?
You can find a few fantastic kennels near Zion National Park. The nearest kennels to the park are in the town of Hurricane, about 30 minutes from the Zion Canyon Visitor Center.
WHAT TO DO WHEN YOU CAN'T BRING YOUR DOG TO ZION NATIONAL PARK
There are many trails in Zion that unfortunately don't allow your canine companion, but there are other hikes nearby to enjoy with your pet. Alternatively, if you're determined to hike the trails in Zion and don't have a family member or friend to hang back at the campsite, there are several local options for dog boarding.
While Zion's canyon and emerald pools are beautiful, there are other options for dog-friendly trails in surrounding parks. For example, you could hike to the unique structure of the Corona Arch in Moab, or visit the many dog friendly trails in Kanab.
There are plenty of options for dog boarding in nearby cities, including Rockville, Hurricane, St. George, Kanab, and Cedar City. Here are some possible options to look into:
Taking the Dog to Zion National Park
Zion is truly a wonder of nature that any outdoor enthusiast would like to share with their canine best friend. But can dogs hike in Zion National Park?