[/et_pb_text][et_pb_ src="https://www.nzymes.com/wp-content/uploads/2017/03/karma-greart-dane-puppy-knuckling-over-800×800-1.png" alt="Great Dane Karma Recovers from Knuckling Over legs" title_text="karma-greart-dane-puppy-knuckling-over-800×800″ align="center" _builder_version="4.9.4″ _module_preset="default" custom_padding="|10px|10px|10px|false|false" border_radii="on|10px|10px|10px|10px"][/et_pb_][/et_pb_column][et_pb_column type="1_2″ _builder_version="4.9.4″ _module_preset="default"][et_pb_text _builder_version="4.9.4″ _module_preset="default" custom_padding="||10px||false|false"]
[/et_pb_text][et_pb_ src="https://www.nzymes.com/wp-content/uploads/2017/03/karma-greart-dane-puppy-after-800×800-1.png" alt="Great Dane Karma Recovers from Knuckling Over legs" title_text="karma-greart-dane-puppy-after-800×800″ align="center" _builder_version="4.9.4″ _module_preset="default" custom_padding="|10px|10px|10px|false|false" border_radii="on|10px|10px|10px|10px"][/et_pb_][/et_pb_column][/et_pb_row][et_pb_row _builder_version="4.9.4″ background_size="initial" background_position="top_left" background_repeat="repeat"][et_pb_column type="4_4″ _builder_version="3.25″ custom_padding="|||" custom_padding__hover="|||"][et_pb_text _builder_version="4.9.4″ hover_enabled="0″ sticky_enabled="0″ text_orientation="justified"]
However, some Dane puppies develop a condition called 'Knuckling', where the support system (feet, pasterns, joints) appear swollen or bowed out as they collapse under the weight of the puppy.
What Causes Knuckling In Great Danes?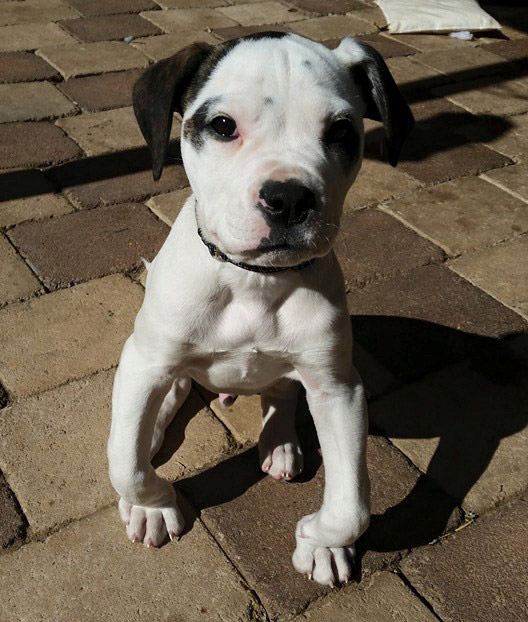 Since we have no definitive cause, other Great Dane owners and vets have combined their experience and knowledge to come up with a list of the things that seem mostly like to cause knuckling.
The most likely cause of Carpal Laxity Syndrome seems to be related to what your Great Dane is eating.
A poor nutrition and diet are most common amongst the puppies that exhibit knuckling, which seems to be truth for most of the bone growth disorders in large dog breeds.
Here are the poor nutrition and diet actions that may cause knuckling:
Mixing different types of kibble
Feeding your dog kibble that is not properly formulated
Not consistently feeding your dog the same kibble
Making your own dog food for your pup, including rice and chicken
Feeding your dog entirely a raw food diet
Putting multivitamins or supplements in your dog's food
Feeding your dog too much food at mealtime
Not feeding your dog the right balance of phosphorus and calcium
We recommend: Eukanuba Puppy Large Breed Dry Dog Food for Great Dane puppies.
In addition to what your dog is eating, there are some environmental factors thought to cause knuckling in Great Danes.
These factors include:
Hard, or slick, floors at home
Nail not properly maintained
Stress of any kind (travel, medical, etc.)
Signs Your Dog Is Developing Carpal Laxity Syndrome
If you are worried about knuckling appearing in your pup's feet, then do know that there are some signs you can watch out for.
Here are the signs your puppy is developing knuckling:
Legs are bowed out
Ankles seem to position themselves over the top of the foot
Legs seem weak because they shake even on carpet and other soft materials
Splayed feet
Front legs and feet look crooked (also known as ballerina feet)
What is Knuckling in Great Danes?
Knuckling is one of the most common growth complications in Great Danes. Some puppies have a mild case, others have a more severe case.
Many people mistake normal, knobby growth plates, flat feet, or angular limb deformities with knuckling!
It is also believed that stressful experiences (going to a new home or boarding, for example), poor breeding conditions, or medical experiences such as ear cropping and vaccines may trigger knuckling in dogs that are already prone to it.
Are you unsure if your Great Dane puppy is knuckling or not? Stay on this page OR read our articles below (each will open in a new tab):
This photo above is of an 8 week old Great Dane puppy that was diagnosed with HOD and knuckling.
FAQ
Can knuckling over be cured?
How to Fix Knuckling in Great Dane Puppies
Change the diet ASAP. …
Add Vitamin C.
Put runners down, everywhere. …
Do not allow your puppy to jump up or to launch themselves off of furniture. …
Avoid hard pavement and leashed walks, which are hard on joints and don't allow the puppy to move naturally.
How do I fix my dogs knuckling?
Can Knuckling in Puppies be Cured or Stopped? The cause of your dog's knuckling can affect the way this condition is treated, some may be treated with supportive care, other causes may require surgery, and some can't be treated at all and can only be managed.
Is knuckling in Great Danes genetic?
Can Knuckling in Dogs be Cured or Stopped?
Cage Rest.
Anti-inflammatory Medications.
Laser Therapy.
Toe Grips.
Mobility Aids.
A Foot Brace (designed for knuckling dogs)
Physical Therapy.
Surgery.