Ol' Roy Canned Dog Food Review
Judging by its ingredients alone, Ol' Roy looks like a below-average wet product.
But ingredient quality by itself cannot tell the whole story. We still need to estimate the product's meat content before determining a final rating.
The dashboard displays a dry matter protein reading of 44%, a fat level of 17% and estimated carbohydrates of about 31%.
As a group, the brand features an average protein content of 43% and a mean fat level of 19%. Together, these figures suggest a carbohydrate content of 30% for the overall product line.
And a fat-to-protein ratio of about 43%.
Above-average protein. Below-average fat. And above-average carbs when compared to a typical canned dog food.
Even when you consider the protein-boosting effect of the soy flour and textured vegetable protein contained in some recipes in this product line, this looks like the profile of a wet food containing a notable amount of meat.
Ol' Roy is a meat-based canned dog food using a notable amount of chicken, chicken by-products or meat by-products as its main sources of animal protein, thus earning the brand 1.5 stars.
Please note certain recipes are sometimes given a higher or lower rating based upon our estimate of their total meat content and (when appropriate) their fat-to-protein ratios.
Has Ol' Roy Ever Been Recalled?
Yes. Independent testing in February 2018 by a TV news investigative team reportedly turned up traces of sodium pentobarbital — often used as a euthanasia drug — in samples of Gravy Train. Pentobarbital can be deadly when consumed by dogs or cats.
As a result of that investigation, the J.M. Smucker Company announced a recall of various flavors of Ol' Roy, Gravy Train, Kibbles 'n Bits and Skippy canned dog foods. It wasn't the first time pentobarbital had turned up alongside mentions of Ol' Roy. More on that in a bit…
A recall in October 2008 was expanded a few weeks later. The manufacturer, Mars Petcare US, had been alerted to potential salmonella contamination of dry pet food products, which included certain packages of Ol' Roy dry dog food produced in a Mars Petcare facility in Allentown, Pennsylvania.
The previous month, September 2008, had also seen a recall of Ol' Roy dry dog food for the same reason: potential salmonella contamination. That recall involved many other brands of dog and cat foods, too — such as Pedigree, Special Kitty, PMI Nutrition, Red Flannel, Members Mark and Retriever — all of which had been produced at Mars Petcare's manufacturing facility in Everson, Pennsylvania.
In June 2007, a single lot of 55 lb. bags of Ol' Roy Complete Nutrition was recalled for the same reason: possible salmonella contamination. However, this dog food had been manufactured at Doane Pet Care's Manassas, Virginia, plant. No other Ol' Roy products were affected. The recalled food had been distributed to Walmart locations in Maryland, North Carolina, Ohio, Pennsylvania, Virginia and West Virginia.
In March 2007, as part of the larger Menu Foods/melamine recall that shocked the country, various sizes and varieties of Ol' Roy dog foods and treats were recalled because of potential melamine contamination.
In June 2006, certain Ol' Roy canned dog foods were recalled because of lining separation in the cans. According to Simmons Pet Food, the manufacturer, there was "random flaking" from the inside coating of the cans. Simmons said the incidence of flaking was extremely low, involving less than 0.1% of cans, but the company still felt it was "in the best interest of our customers to voluntarily recover this product from the marketplace."
Finally, there was a large recall of Ol' Roy in November 1998, following reports of sickness in pets and the deaths of "around 25 dogs." The food was thought to be contaminated with aflatoxin, a toxic byproduct of a mold that attacks corn under certain temperature and moisture conditions. Drought, insect damage to crops, and improper storage and handling can all increase the risk of contamination.
The recall involved at least 17 brand names of dry dog food manufactured by Doane Pet Care at its Temple, Texas, plant between July 1 and Aug. 31, 1998 — names included Country Acres, Dura Life, Exceed, Feedin Time, Golden Boy, Grand Paw, Hill Country, Maxximum Performance, Ol' Roy, PMI Nutrition, Remarkable Menu, Retriever, Slick, Sportsman Choice, Wendland, Winchester and Winner. Corn was the primary ingredient in the foods.
In all, nearly 1.4 million bags of dog food were recalled that had been distributed to Texas and Louisiana. Doane Pet Care incurred $3 million in expenses because of the recall.
"We sincerely apologize if any of the products we make contributed in any way to family pets dying," said Douglass J. Cahill, Doane's CEO at the time. He noted that "since the first hint of the problem" the company had initiated its own "around-the-clock investigation."
Full details about all Ol' Roy dog food recalls appear below.
In 2002, the U.S. Food and Drug Administration (FDA)'s Center for Veterinary Medicine (CVM) released the results of its investigation into the presence of pentobarbital in popular dog foods. This euthanasia drug was finding its way into dog food by way of euthanized, rendered cattle and horses.
"Rendered" means some of the meat ingredients were created from the process of byproducts and other materials being cooked together and then centrifuged. Rendered ingredients can include animal digest, animal fat, beef and bone meal, beef tallow, and meat and bone meal.
A previous study (by the University of Minnesota in 1995) had already demonstrated that pentobarbital survives the rendering process virtually intact. In other words, high-temperature cooking does not destroy it.
CVM scientists analyzed nonrepresentative samples of dozens of dog foods purchased from retail stores in 1998 and 2000. Brands that ended up testing positive for the presence of pentobarbital included Ol' Roy, Dad's, Purina Pro Plan, Nutro, Kibbles 'n Bits and Gravy Train. Yes, all of these brands were shown to contain some level of pentobarbital, a deadly drug.
According to the CVM, its researchers concluded, however, that "the low levels of exposure to pentobarbital that dogs might receive through pet food [was] unlikely to cause them any adverse health effects." Also, the center stressed that there was "a complete absence" of dog or cat DNA in the samples — meaning that, contrary to decades-old, horrifying rumors and myths, no euthanized dogs or cats had been rendered into the pet food.
The lab results released upon completion of the CVM's investigation in 2002 showed that, along with several other dog food brands, samples of Ol' Roy tested positive for the presence of pentobarbital — but not in amounts thought to be harmful to dogs. Here are the varieties that tested positive:
Ol' Roy Krunchy Bites & Bones
Ol' Roy Premium Formula With Chicken Protein and Rice
Ol' Roy High Performance With Chicken Protein and Rice
Ol' Roy Meaty Chunks and Gravy
Ol' Roy Puppy Formula Beef Flavor
Ol' Roy Puppy Formula Chicken and Rice
Ol' Roy Lean Formula
Understand that these tests results from 2002 simply reflect "a snapshot in time," as the CVM describes it. The investigation took place many years ago, and the pet food formulations have most certainly changed since then. Therefore, "the data cannot be used to draw inferences about dog food being produced and sold in the U.S. today," the CVM says.
Ol' Roy High Performance Dry Dog Food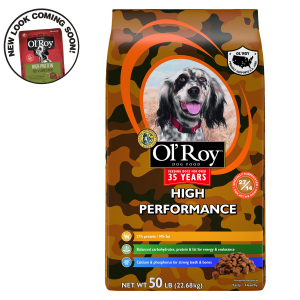 WHY YOU SHOULD BUY
Protein-rich recipe for performance dogs. Features meat meal as the first ingredient. Packed with vitamins and minerals for health support.
The Ol Roy high performance dog food is a high protein recipe designed especially for active, working, sporting canines that require a lot of energy to cope with their daily tasks.
The Ol Roy dog food nutrition label says that this formula has 27% protein, 14% fat, and a balanced amount of carbohydrates to ensure your performance doggy feels its best even after intensive workouts or other high-impact activities. This recipe features meat and bone meal, which might be good on the condition you know what meat type they use. It also has Omega-6 fatty acids for healthy skin and coat.
KEY FEATURES:
Calories: no info found
Crude protein: 27% min
Crude fat: 14% min
Crude fiber: no info found
First 8 ingredients: meat and bone meal, ground whole corn, ground whole wheat, corn gluten meal, soybean meal, animal fat, natural flavor, salt, and more.
SPECIFICATIONS:
Type: Dry dog food
Breed size: All breeds, but for large breed puppies
Life stage: All stages
Bag size: 20 lb., 50 lb.
WHAT WE LOVED:
Made specially for active and working dogs
The higher protein level than in recipes of this brand
Includes vitamins and minerals for overall health
WHAT WE DIDNT LIKE:
Meat and bone meal of the unknown origin
Corn, soy, wheat are the basic ingredients
The protein level might be insufficient
FAQ
Is Walmart discontinuing Ol Roy dog food?
Today, we learn of yet another national brand of dog food was found to contain the lethal euthanizing drug sodium pentobarbital: Walmart's brand Ol' Roy canned dog food. Walmart, the nation's largest retailer, is now in the process of quietly removing it from all 4,700 stores across America.
Where is ol Roy canned dog food made?
The Best Wet Dog Foods September 2022
Canidae All Life Stages Canned Dog Food.
Merrick Classic Canned Dog Food.
Ollie Fresh Dog Food.
Weruva Wet Dog Food.
Wellness Stews Canned Dog Food.
The Farmer's Dog Fresh Dog Food.
Instinct Original Wet Dog Food.
Whole Earth Farms Canned Dog Food.
Is Ol Roy a good dog treat brand?
Doane, based in Brentwood, Tennessee, would become the largest manufacturer of private label pet food and the second-largest manufacturer of dry pet food overall in the United States. It produced pet food for a number of national brands, as well as around 175 store brands.