Use a Pet Scratch Protection Film to Protect the Jambs
While a Plexiglas shield will prevent your dog from leaving claw marks on the door, it won't protect the jambs.
In my experience, applying a ready-to-use scratch protection film designed for door frames, such as this one, is the simplest way to get viable protection.
It's similar to a transparent adhesive tape (it comes with peel-off backing) that you have to stick on the surface you want to protect from scratches. It's that simple.
Now, let's see the main advantages and disadvantages.
Pros:
it's hardly visible, thus it doesn't really change the appearance of the jamb
it sticks pretty well, and usually stays in place for a long time
works with most types of door frames
Cons:
you have to replace it from time to time, depending on the intensity of exposure
it won't always protect against aggressive scratching
although it's not typical, some products may take the stain off (I suggest you test it on a small area before applying to check whether it damages the paint)
There are several door scratch protectors available on the market. Most of them work in a very similar way. They are made of some kind of plastic that you need to attach to the door using the included tools.
Some door scratch shields require no tools for installation (all you need to do is hang them over the doorknob) while others should be mounted on the door using the supplied adhesive tape, velcro pads, etc.
If you need a ready-to-use solution and don't want to spend time creating a homemade door protector, choosing a heavy-duty door shield would be a practical choice.
I recommend you opt for a model that's easily removable and requires no installation, such as this one. Let's see some of its benefits and drawbacks.
Advantages:
it's a hassle-free solution, no hardware is required to install
it protects the jamb
easily removable without damaging the paint or the finish
can be trimmed with household scissors
Disadvantages:
it might not be the best solution for larger dogs (they may pull it off the knob)
it doesn't cover the full width of the door
could be more durable and thicker
Many people believe that in order to prevent scratches, they must reinforce and modify the door itself.
This isn't necessarily true.
A creative yet effective solution is to restrict the dog's access to the door. This way you can put an end to scratching without having to add any protective shield to the door. Of course, this method only works if your dog scratches the door from the inside.
A pet gate is basically a decorative barrier. There are countless models available on the market: they come in a wide range of sizes and colors. They can be made of wood, metal, or plastic.
You don't necessarily have to drill to set up a pet gate: you can choose from many freestanding and pressure-mounted models. For example, this one is a pretty popular dog gate.
Benefits of pet gates:
you don't have to alter the door and the jamb to protect them
apart from hardware mounted models, they're very easy to use as they require no installation: they can be used right out of the box (changing their location can be done in just a few seconds)
they're durable and many models are collapsible
Drawbacks:
they work with many but not all home layouts and designs
can be an obstacle (especially for the elderly)
for larger dogs, you need to get a pretty high gate
Sometimes there's no point in restricting your dog's living space. While it does not apply to all situations, a doggy door can definitely be a reasonable solution to stop door scratching.
When is a dog door an ideal choice?
If your yard is fenced and you want to give your dog as much freedom as possible, installing a doggy door can be a great solution.
A dog door allows your dog to go potty whenever they feel the need, even if you're away from home.
I can't tell you that installing a doggy door automatically stops scratching in all cases, but I've hardly ever encountered a case where the dog kept leaving claw marks or jumping up on the door after the installation.
If you're concerned about security, choose an electronic model that only works with your dog's microchip. That will prevent any unauthorized entries. You can also opt for a dog door that you can manually lock when you're away.
The obvious drawback of a doggy door is that you either have to modify your existing door, cut a hole in the wall, or add a new panel to your sliding door.
When it comes to scratching, you basically have two options if you want to save your screen door: either protecting the screen itself (see the next method on the list) or using pet-proof screening.
Scratch-resistant pet screens are usually made of more elastic and durable material than regular fiberglass screens. Therefore, a pet-proof screen is much less likely to be damaged by dog nails.
At the same time, it still protects against insects and wild animals.
If you don't want to change the appearance of your door or add any extra protective stuff to it, a pet-proof screen is probably your best choice.
This tear and scratch resistant one is a pretty popular product that can be used for most screening applications, including patio door, window, and garden screening.
Protect Doors From Dog Scratches: Best Door Protectors
SIZE: 20in x 44in
COLOR: Frosted White
ATTACHMENT: Fits over Door Knob
The Clawguard has a cut-out that fits over your doorknob. It's large enough that it will protect the door, door jamb, and frame. It does come with adhesive stickers but it's truly designed to easily come on and off the door. This means it's easy to take with you when you travel. It also means that if your dog is adamant about getting to the door, there is some mobility to the door protector.
The other feature of the Clawguard is that it has one side that is textured to create noise to deter your pet from scratching. If your dog has extreme anxiety, you should check with your vet or behaviorist before using it. The sound could create additional stress.
Easy to install and remove
Provides additional protection to door jamb and frame
One side textured to make deterring noise for scratching.
Easy to customize with standard scissors
It fits over the doorknob, so it does not work for all doors
The extra coverage for the door jamb may get in the way of opening and closing the door.
SIZE: (18 x 12) or (30in x 30in) or (35.4 x24)
COLOR: Clear or Black
ATTACHMENT: Adhesive Backed Velcro
The Protecto door Scratch Protector is a clear durable plastic that attaches to the door with adhesive-backed Velcro. Since it does not hang around the handle, it can attach to various types of doors, including screen doors, when connected to the frame. The plastic is a durable 77mm polycarbonate, and I found it to be the strongest plastic of all the protectors.
Can fit most doors
More durable plastic
Does not come rolled up and can be installed upon arrival.
Does not protect the door jamb
Adhesive Velcro could damage the door when removed
SIZE: 36×16
COLOR: CLEAR
ATTACHMENT: 8 Adhesive Backed Velcro Coins
The LAMINATE Pet Scratch Shields come in many sizes for furniture and other uses, but the larger 36×16 is the one designed for door protection. It has a handle cut-out to fit around your doorknob. You can easily cut it to customize it to your door. The plastic is heavy-duty but a bit more pliable than the Protecto. The Laminate Pet Scratch Shield is an excellent option if you want to customize some protection for the door jamb or frame.
Customizable to fit door jamb (You will need two, one for the door and one for the frame)
Heavy-duty plastic, but malleable
Needs customization to fit a door jamb
Plastic is not as strong as Protecto
SIZE: 44×24
COLOR: CLEAR
ATTACHMENT: Handle opening and Adhesive Backed Coins
The In-Hand Clear Door Scratch Protector is made of vinyl and fits over the door handle as well and attaches with sticky fasteners. This does not cover the door jamb and frame. While that offers less protection, it's easier to open and close the door than with the Clawguard which expands past the door. The vinyl offers protection from your pet's nails but if your dog is a chewer, they may try to pull it down with their teeth.
Easily Customizable
Vinyls stands up to claw marks
Vinyl may encourage chewing
May need additional adhesive
SIZE: 33×35
COLOR: CLEAR
ATTACHMENT: 9 Adhesive Backed Velcro Coins
The Cardinal Gate Door Shield is recommended with a bit of reservation. After many user complaints, they have recently upgraded the plastic's durability. While it stands up to our pups, it may not hold up for stronger dogs. It attaches with nine adhesive squares. They recommend using two protectors for high jumpers. It also attaches to most doors, even screen doors, if you adhere to the frame. It is easily customizable with scissors.
Not durable enough for heavy scratches
May need to use additional adhesive.
We researched a few products that did not make the list. In general door protectors are temporary, but some options were just not worth the money. The KEBE door and Bandwagon Door Scratch Protector did not make our recommendation list. We didn't feel confident they could protect doors from dog scratches.
One of the most significant complaints is that most of the door protectors come rolled up making it difficult to hang. To attach them to the door, they need a solid 24-hours to lie flat under some heavy objects to straighten it out. The only exception was the Protecto, which is a less flexible plastic and came in a flat envelope.
If your cat or dog gets the door protector dirty most are easy to clean with a damp cloth.
There is a limit to the strength of any Velcro and adhesive. To keep the door protector in place, consider using additional 3M type adhesives.
Baby gates could be an added layer of protection. You can use them to prevent a dog from getting to the door, but you can also use them instead of the door. This way, your dog has access to see and hear you even if they are unable to reach you physically.
This may seem obvious and may not always be possible, but if you can regularly trim your dog's nails, it can lessen the damage to the door.
Even though most of these door protectors are clear, I still wasn't in love with how it looked on our bedroom door. You can still see the adhesive dots through the transparent protector. I decided I wanted a stylish way to protect doors from dog scratches so I did a little upgrade with some wallpaper.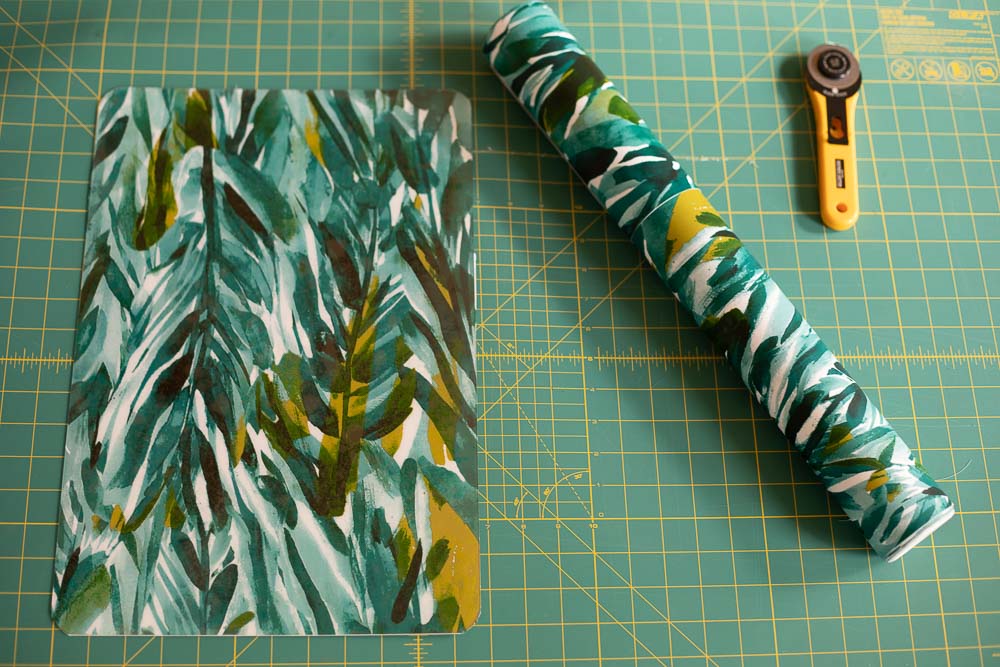 I found this wallpaper in a fun Boho pattern at Target. I cut out a piece to fit the plastic. This only works with the Protecto because it is a bit sturdier than the other protectors. I used spray adhesive to attach the wallpaper to the back of the door protector. I then attached 3M clips to the back of the wallpaper to secure it to the wall.
Sure, it's a little weird to have a patch of wallpaper on the door, but no more weird than having plastic attached to it. At least this way we get to add a fun Boho pattern to the room.
Check out more Boho finds on our post on Boho Pet Accessories.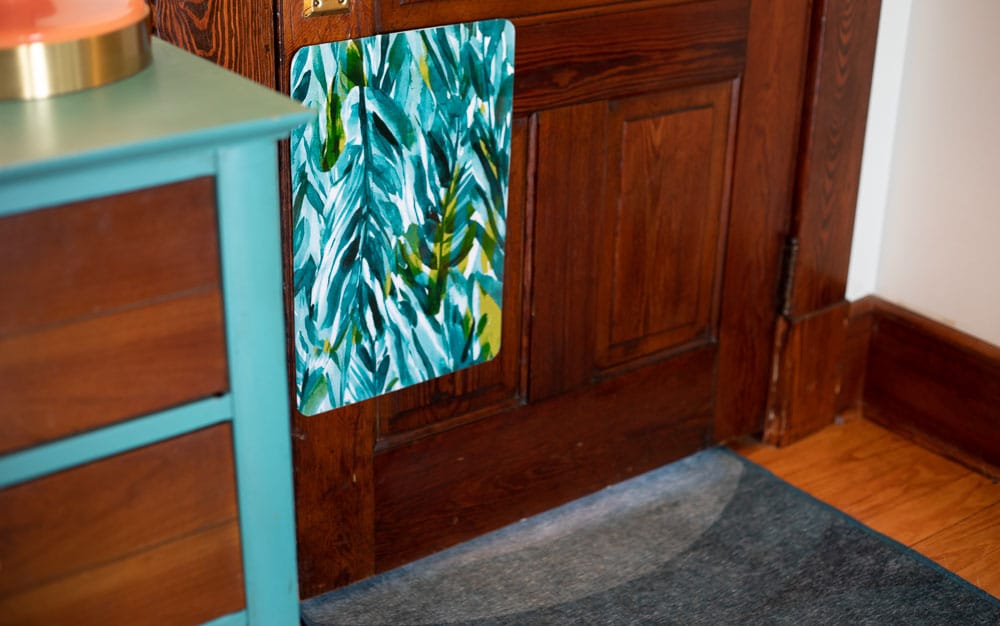 7 Common Reasons Why a Dog Scratches a Door
If your dog is scratching the door from the outside, the most likely causes are the following:
Separation anxiety. When dogs are closely attached to their owner, leaving them alone even for a short period of time might cause extreme distress. Often they try to bypass the barrier (in this case the door) that separates them from their guardian or call the owner's attention by scratching the door. Contrary to popular belief, separation anxiety can appear not only in puppies but in adult dogs as well.
Hunger. Sometimes the only reason why a dog scratches the entrance door is that they're hungry and that's a unique way for them to call your attention. This scenario mostly occurs when your dog realizes that the food always comes from the house and they associate the opening door with food.
They want to go inside. There could be many reasons why a dog wants to get inside, including harsh weather conditions, loneliness, tiredness, or fireworks. More often than not, they just want your company (it's especially true if you have a puppy).
They want to call your attention. Here's an example: my dog used to scratch and jump on the door each time when she found something she thought would be interesting for me (including bugs, roots, etc.).
If your dog is scratching the door from the inside, one of these might be the reason:
They need some physical activity. In order to maintain their health, dogs, just like humans, need to do some moderate to high-intensity exercises, such as running or walking, every day. Inside a house (or an apartment) there's only limited space available that might not be enough to satisfy your dog's need for exercise.
They're bored. When dogs feel bored, they tend to do all kinds of things that seem to be entertaining for them, including scratching the door or the jamb.
They want to go outside. There are many reasons why a dog wants to leave the house. They may have to go potty, see (or hear) something outside that catches their interest or they may just want to go for a walk. In these cases, a trained dog usually won't start scratching and damaging the door right away, instead, they try to call their owner's attention by barking or changing their behavior.
They're missing their guardian or they're anxious. When you leave home, your dog doesn't know that you go to work (or elsewhere), all they see is that you disappear behind the door. Dogs love company (some breeds more than others) and if you spend most of your day away from home, they might become lonely or anxious. Puppies are particularly sensitive to being alone.
Now let's see the solutions, one by one:
This method is on the top of the list for a reason: it's a highly effective, simple, and affordable way to protect any door from pet scratches. While this is a DIY solution, it does not require any special skills.
All you need is
a thin sheet of Plexiglas (1/8 or 1/16-inch thick, for larger dogs, choose the thicker one),
a utility knife or glass cutter,
some roundhead screws (plus a drill), heavy-duty double-sided mounting tape (be careful, it might remove paint from the door), or velcro hooks, depending on how you want to fix the plexiglass on the door.
If you have a metal door, you can also use magnets to fix the door shield.
As you can see, you can choose from several methods to mount the acrylic sheet. In most cases, I prefer using double-sided adhesive tape.
FYI: Don't worry if you don't have a glass cutter or a utility knife: you can ask the staff at your local hardware store to cut the plexiglass according to your needs.
Pro Tip: If you want to use screws, keep in mind that plexiglass can crack easily during drilling, so always drill slowly and carefully. Start with drilling a tiny diameter pilot hole and then gradually increase the size of the hole. Always wear safety gloves and goggles.
Instead of plexiglass, you can also use any other kind of plastic sheet such as a vinyl plastic floor protector (the one you use on carpets) or Lexan which is more durable but also more prone to scratches.
Here's the full process step-by-step in a short video:
I suggest you cover the full width of the door. The height of the protector depends on how high your dog can jump. If the door protector reaches the doorknob (because you have a larger dog), you need to cut a circular hole in the Plexiglas.
Also, it can be used on both exterior and interior doors, such as bedroom doors. In most cases, it prevents damage even from aggressive scratching. It's a really powerful and easily customizable way of protecting doors from dog scratches.
To be honest, it's my favorite way to prevent a dog from scratching a door. While it's a great solution to protect the door itself, unfortunately, you can't use it for the jambs. If you want the door frame to remain scratch-free, check out the next method on the list.
FAQ
Why does my dog scratch closed doors?
To protect a door from dog scratches, place a plastic, metal, or fiberglass scratch screen in front of the door to absorb the damage. You can protect the bottom of the door by screwing a metal kick plate to it, and you can shield the door's weather strip by fixing a piece of vinyl lattice to the door jamb.