Are you seeking the best nutrition for your pup but struggling to pick from the vast ocean of options? You're not alone! We are on a mission to make the world of dog nutrition simple for every dog mom and dad. So we have picked some of the best brands and reviewed them in their entirety.
In this guide, we'll be taking a detailed look at the well-known and well-loved premium brand, Science Diet. Science Diet is one of the most popular lines from Hill's Pet Nutrition brand. Essentially, they use science in each formula to provide the best nutrition for every pup.
Not only will we look at their brand and recall history. We also take a look at their range of formulas for puppies, adults, and seniors, including options for the chunky and fussy pups out there. Hopefully, after reading this guide, you'll know whether Hill's Science Diet is the best pick for your pooch. So, let's get down to business.
Note: Clicking the above links take you to Chewy.com, where you can get additional product information and customer reviews. If you make a purchase, we earn a commission at no additional cost to you.
Science Diet is one of the most popular brands across the world, not just here in America. It is a line of formulas made by Hill's Pet Nutrition, which is marketed as Hill's. Hill's also markets a separate product range called the Prescription Diet. This is a line of pet food dedicated to specific health issues, and these products require a sign-off from the vet.
Hill's was founded in 1907, but it began as an animal disposal company. On the side, they produced farm animal feed and produced meat scraps, tallow, and hides. By the 1930s, they had changed direction away from animal disposal and focused on farm animal feed and dog food. So, this is where their journey really began.
During this time, the dog owner of a dog with kidney failure asked a leading vet who worked with Hill's to create a pet food that would resolve this serious health issue. After a successful venture, they began focusing on several other formulas. Which eventually formed their new product line, Science Diet. Their slogan is 'lifelong health starts with science.'
Hill's Pet Nutrition was eventually sold to the worldwide brand Colgate-Palmolive in 1976. This raised the brand's reputation to the global platform. As a result, they are now sold on almost every online pet food website and sold in most pet stores and veterinarians in the developed world. We have compared Science Diet to several other brands, including Diamond Naturals.
Taking a look at a pet food brand's recall history is very important in the research process. It can tell you a lot about whether they take the safety of our beloved pups seriously. When the quality or the safety of a food product is discovered, it should be recalled from the shelves and announced to customers. This can be done voluntarily by the brand themselves. Or by the US Food & Drug Administration (FDA).
Considering Hill's Science Diet has been in production for many decades, you might expect many recalls. But thankfully, this is not the case. From online sources and records, they have only had three recalls — an impressive feat! So let's take a look at what happened and how they dealt with them.
The first recall occurred in June 2014. This concerned only 62 bags of kibble, and it was suspected that they were potentially contaminated with salmonella. Science Diet quickly identified these products and recalled them, and thankfully there were no reported issues. This was a result of their manufacturing process, and they were quick to resolve the issue.
The second recall occurred in January 2019. Again, science Diet voluntarily recalled a select batch of canned dog foods because there was a potential for elevated vitamin D levels. The third recall occurred two months later, and it was an extension of the second recall. So some would say they have only had two recalls! They voluntarily recalled further products with suspected vitamin D level concerns. This issue was blamed on supplier error.
You can see there have only been a few recalls, which is impressive in itself. The first recall was as a result of their manufacturing process. But despite possibly undermining themselves as a brand, they put the safety of our dogs first. They recalled products that were potentially contaminated. Again, they were quick to act regarding the second and third recalls, and it was blamed on supplier error. They quickly resolved the issues, and it has not happened since.
Blue Buffalo offers a range of different flavors in its dog food. The brand adds no preservatives, by-product fillers, or artificial flavors in its food. On their website, they state that their food does not contain wheat, soy, or corn. These ingredients are often known to trigger dog allergies.
The main ingredients in Blue Buffalo dog food include rabbit, chicken, beef, lamb, turkey, salmon, duck, trout, and oatmeal. Most formulas also add a variety of vegetables, fruits, enzymes, probiotics, and dry tomato pomace. Each of these formulas is fortified with vitamins. They also include recognizable fats, like chicken fat. These are an excellent source of fatty acids.
Unlike other companies, Blue Buffalo doesn't use ambiguous wording when describing the ingredients in their foods. Their labels use definitive descriptions like real turkey and chicken meat as a protein source.
Science Diet bases their recipes on science, which means that they usually use the same ingredients in most of their recipes. However, they use them in different quantities based on the needs of the target dog. Let's take a look at the ingredients Science Diet uses.
They use real meat in most of their recipes, and chicken and lamb are their favorite meats to use. Often, meat is listed as the first ingredient, but this is not always the case. They also use meat meals, such as chicken meal, which is a concentrated form of protein. It is rich in glucosamine too, which is great for joint health. The average protein content across their range is 24%, which is below the quality-brand average. However, many dogs do better on less-rich formulas.
In some recipes, Science Diet will use meat by-products. This is a controversial ingredient that is basically all non-meat parts of an animal. Sometimes this can include animal parts such as feet, beaks, and hair, which are not nutritionally beneficial. And some say this makes it a lower-quality ingredient. However, many quality brands, like Royal Canin, use meat by-products.
Science Diet uses grains in almost all of its recipes. There is only one option for dog owners who opt for a grain-free diet or dogs who need a grain-free diet. This is the adult formula for dogs with sensitive skin and stomachs. The rest of their grain-inclusive products typically use barley, wheat, corn, sorghum, and brewer's rice. They are mainly used for energy content and are of moderate nutritional value. Overall, Science Diet has an above-average carbohydrate content.
All of their recipes are fortified with vitamins and minerals, which is great for Fido's immunity and overall health. They also use recognizable fats such as chicken fat. It is high in linoleic acid, which is an omega-6 fatty acid crucial for wellness. This is a high-quality fat. From looking at the ingredients lists, probiotic ingredients do not feature in their recipes. Although this is not necessary, it aids smooth digestion, so Fido will miss out on this.
The only criticism that some nutritionists have is that Science Diet does not use 100% natural ingredients in every formula. However, this is only a criticism of those who believe dogs should be fed a 100% natural diet. There is no scientific evidence to prove this is beneficial. In fact, Science Diet's evidence shows that a scientific-based formula benefits Fido's health. If dogs do better on an ingredient that is not 100% natural, they'll choose this. So, this all depends on your viewpoint.
Unlike many other brands, such as Blue Buffalo, Science Diet does not offer different product lines. Instead, Science Diet is the formula line, and everything is included under one name. This makes choosing a formula much easier because you don't have to worry about choosing between different names that often mean nothing. Nice and simple, this is a huge benefit for many confused dog owners.
However, there are several formulas within the line that can be categorized into three different dietary groups. Many owners who consider Hill's Science Diet seek these options, so it's worth covering them in their own right. Let's take a look at these choices.
There are 11 food options designed for doggos with sensitive digestion needs. These cater to small and large breeds offering different flavors. The most common flavor is chicken, and there is one salmon option. These formulas will nourish your pup from the inside out. The optimized combination of vitamin E and omega-6 fatty acids takes care of skin and coat health and prebiotics assist smoother, regular digestion.
There are six weight control food offerings. All of the options are for adults, but this is not an issue because puppies should not be put on a weight control diet unless prescribed by your veterinarian. There are options for all adults, including small breeds and large breeds.
There are several different options, including recipes with different grains and smaller kibble for those with small mouths or who struggle to eat normal-sized kibble. Unfortunately, these are all chicken-based meat recipes. So we hope your chunky canine likes chicken otherwise, you'll have to pick another brand altogether.
Related products
Hill's Science Diet Adult Perfect Weight Chicken Recipe Dry Dog Food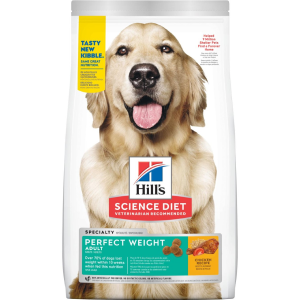 WHY YOU SHOULD BUY
Your pet may be overweight, and you may not know about it. After you consult with a vet, they may recommend either sticking to the same food while reducing the amount or switching to something like Hill's Science Diet Perfect Weight food — the nutritionally balanced, low-calorie alternative.
Obesity in animals, like obesity in humans, is a serious medical condition. We're all for body positivity, but it's time to think about making changes when it affects one's health. The American Kennel Club offers a super-simple step-by-step guide to making sure you keep your dogs weight in check.
Remember, switching to a weight management food will only work if you follow the instructions on the packaging and diet recommendations given by your vet. Think of it like when a human goes on a diet — it has to be sustainable long-term.
And this may be the reason why the calorie count in this food is a tad higher than others we've reviewed. If followed to the letter, it's sustainable weight loss (Hill's states you'll see results in 10 weeks).
Apart from the obvious health benefits of reducing excess weight, Science Diet low-fat dog food comes packed with protein (from real chicken) to help retain muscle mass and all the essential vitamins and minerals required in a healthy, balanced diet.
KEY FEATURES:
Made in the USA
Includes vital vitamins and minerals
Does not contain any preservatives, artificial colors, or flavors
SPECIFICATIONS:
Type: Dry food
Breed size: All breeds
Life Stage: Adult
Weight: 4, 15, 28.5-pound bags
WHAT WE LOVED:
Balanced nutrition
Affordable weight management food
WHAT WE DIDN'T LIKE:
It's supposed to help manage weight, but the calorie count is higher than other weight management dog foods.
No Corn, Wheat, or Soy
There are six food offerings that do not use corn, wheat, or soy. Corn, wheat, and soy are grain ingredients that some nutritionists say are more difficult to digest and can cause allergies. However, there is no conclusive evidence to suggest this is true. It is only true in some dogs, but remember that all dogs are different! Ultimately, vets will recommend this diet for some dogs, so it's a great option for a brand to offer.
Who makes Hill's Science Diet Dog Food?
To answer why it's called Hill's, we have to go back in time to pre-WW2 America. In the late 1930s, a blind man named Morris Frank was touring the US with his guide dog, Buddy. Unfortunately, Buddy seemed to be suffering from kidney failure at the time.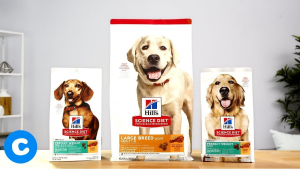 What happened next launched one of the biggest pet foods in the world.
Keep in mind, veterinary practice and dog nutrition were still very young.
To help Buddy, Mr. Frank turned to one of the leading veterinarians of the time, Dr. Mark Morris Sr., who coincidentally had the same last name as Mr. Frank's first name.
Dr. Morris Sr. deduced that Buddy's kidney failure resulted from poor nutrition and developed a dog food for Buddy. The results delighted Mr. Frank so much that he arranged for cans and canning machines to be sent to Dr. Morris Sr's home. Eventually, the faithful doctor outgrew his home canning facility and turned to Hill Packing Company (located in Topeka, Kansas) to can and package what would become Hill's Prescription Diet dog food.
The doctor's son, Dr. Morris Jr., worked alongside his father in a research facility (established in 1951 in Topeka) to develop a food for healthy dogs — Science Diet.
The manufacturer of Hill's Science Diet, Hill's Pet Nutrition, is currently owned by Colgate-Palmolive. Yes, the toothpaste and the soap. But Colgate-Palmolive also markets a variety of food products, healthcare products, and personal care products. They bought Hill's in 1976, and the brand has seen growth year-over-year since then.
Just an FYI, the manufacturing facilities used to make Hill's dog food do not come in contact with any toothpaste, soaps, or any other chemicals, for that matter. Hill's dog food is made in the USA in Topeka, Kansas. Some of the ingredients for pet food are imported from other countries.
FAQ
Is Science Diet dog food made in China?
Our Rating of Hill's Science Diet Adult Dog Food

Hill's Science Diet Adult is a grain-inclusive dry dog food using a moderate amount of named meat meals as its dominant source of animal protein, thus earning the brand 3.5 stars. Recommended.
Why was Science Diet dog food recalled?
Hill's Science Diet is owned by the Colgate-Palmolive Company, and it's made in Topeka, Kansas.
Is Science Diet dog food on recall list?
A: Starting on January 31, 2019 Hill's issued a voluntary recall of some of its canned dog food products due to elevated levels of vitamin D. The recall affected only certain Hill's Prescription Diet and Hill's Science Diet canned dog foods. No dry foods, cat foods or treats are affected.