Some dogs simply love being mischievous and testing the limits of their owners. The most common negative behaviors that small dogs do are chewing, digging, and barking.
Many dogs can be trained not to do these behaviors with constant reinforcement from their owners. However, this is not a simple task, and many owners train their small dogs half-heartedly or give up when they don't see immediate results.
However, an untrained small dog can lead to worsening behaviors. Additionally, the older your dog gets, the harder it will be to train these behaviors out of them.
Thus, it's best to start them young when they're still small puppies. Young dogs are more impressionable and will be able to learn through negative reinforcement quicker and easier than older dogs. Thus, a training collar can help.
Today we've taken the time to find the five best training collars for small dogs and puppies. Use one of these collars to help reinforce that some behaviors are unacceptable, such as barking and chewing.
Our favorite training collar for small dogs on the market is by Pet Resolve because it has three different methods of training. You can choose between loud beeps, vibrations, and shocks to deter your dog away from their bad behavior. Three modes allow you to discover which is the most effective for your dog.
The shock modes, both momentary and constant, have 10 intensity levels to work up, giving you plenty of time to train your dog's bad behavior away slowly. The back collar is waterproof and durable, which is also ideal for smaller dogs who will often drag their collars along the floor or in the rain.
This remote training collar for small dogs allows you to train up to three dogs at once, thanks to the multiple channels. The collar and remote works up to 1312 feet away from you, which is ideal for both the indoors and outdoors.
This collar is adjustable and will fit dogs weighing around 15 pounds, making it ideal for dogs of all sizes. You can cut off the excess collar material once you've measured it on your small dog so that there is not much leftover collar being dragged around.
Additionally, you can remove the shock mode if you'd prefer a more humane training collar, which will prevent you from accidentally shocking your dog. The best feature about this training collar is that it can automatically detect when your dog is barking and provide immediate feedback. Thus, you don't always have to be around for this bark collar to work.
The Mini Educator training collar is generally considered to be one of the best shock collars on the market. It has 100 levels of stimulation that can "lock and set" in place. Additionally, the receiver is one of the smallest on our list at only 2.4 ounces. Thus, you can use it on any small dog that weighs over 5 pounds and it won't be bulky around their neck.
The receiver is also waterproof, made in the USA, and contains three different modes that can easily be switched via the transmitter. If you have a small dog breed and you're looking for a training collar that isn't bulky, you should check out the Mini Educator.
Next up is a collar specifically designed for smaller dogs from 5 to 15 pounds in weight. The adjustable training collar fits dogs with neck sizes as small as 8 inches and reaches all the way up to 26 inches. This is ideal for dogs as small as Chihuahuas and Jack Russell's.
This training collar uses either vibrations, static shock, or sounds to train bad behaviors out of your dog. You can use these to find the best method of training your dog without having to spend more money on multiple different collars. Typically, more sensitive dogs will react to the beeps or vibrations. In extreme cases, you'll need to use the static shock to train your dog.
The thin strap is incredibly comfortable for your small dog's neck, even when they're running and playing. The range is an impressive at 1000 feet, which means that you can use this e-collar during walks when your dog is far away from you. If you're looking for a small dog training collar with a remote, this should definitely be one of your top options.
Moving onto a collar that really doesn't have a shock feature is the GoodBoy Mini. This is a small dog vibration training collar that also has beeping modes to train out negative behaviors.
Some people want a collar that does not have a shock feature to prevent accidental shocks. This is a great option that works effectively and is cheaper in price.
This vibration collar is incredibly small, both in circumference and thickness. The collar can fit dogs as small as 5 to 15 pounds. Additionally, the training collar is incredibly thin to avoid it rubbing or making your dog feel uncomfortable.
There are nine intensity levels for the vibration feature and one for lights. The range is 1000 feet which is ideal for training even when you're far away from your dog. The battery lasts for up to 16 hours on a single charge, so you won't have to worry about charging it every night. If you're looking for a vibration training collar for your small dog, you should consider this option.
The eXuby shock collar is named the smallest dog shock collar in the world. It is ideal for puppies and small dog breeds that need quick and effective training.
The electrode part of the shock collar is smaller than the market average to keep your dog happy and comfortable while they're wearing their collar. It won't overly stimulate or hurt your small dog when used appropriately. For any shock collar, you want to start on the lowest setting and gradually work your way higher until your dog reacts to the shock.
You can easily choose between shock, vibration, and sound training modes, depending on how your dog responds to the stimuli. There are nine levels of intensity for you to utilize during the training process which should remove the behavior once and for all.
The remote has a sleek look with easy-to-use buttons for quick training purposes. There's no use having a remote that requires multiple button presses to use the training mode on your dog.
The eXuby collar gives a quick response to ensure that your dog knows the behavior that is bad. If you have a micro, teacup, or miniature dog breed that needs immediate training, this is a great shock collar.
Finally, the DOG CARE collar has three training modes, including shock, vibration, and sounds. This bark collar can help you train your dog to stop biting, chewing, digging, and barking. No matter the negative behavior, DOG CARE can help you with training.
The security keypad lock allows you to lock the collar so that your dog does not have to experience accidental shocks from the collar. We love this feature as it helps keep your small dog safe from being harmed when they're not doing anything wrong.
Adjust the training modes from 1 to 10 levels to aid you in the training process. This will prevent your dog from getting used to the training collar and not being phased by the shocks or vibrations.
This is another adjustable collar for small to large dogs, and you can trim the excess fabric off for your small dog. The only downside to this small dog training collar is that it doesn't have an LCD display on the remote.
Maximum Range
A training collar with a remote will have a maximum range in which the remote can pick up the collar in. The longer the range, the further your dog can be away from you while still being trained.
If you're only going to be training your dog in the comfort of your own home, a shorter range will be fine. However, if you want to train your dog out on walks when they're further away from you, you can find training collars with a maximum range of up to 1000+ feet.
Pet Resolve Remote Shock Trainer – Best Overall
If your small dog fits in the over 15lb category, Pet Resolve is a good option. This versatile collar offers three training methods and the power to train three dogs simultaneously. Trainers can choose between three strategies: loud beeping, shock, or vibration to curb a dog's unacceptable behavior and teach them 'good dog' behavior habits.
FANTASTIC NEW UPGRADE SINCE MAY= 4.7* + EXTRA LONG & REMOVE THE SHOCK PRONGS + NO STANDBY MODE ALWAYS READY + ANTI BARK & LIGHT NIGHT MODE! Is your dog misbehaving and you want a well behaved pet with minimal fuss? The Pet Resolve system is the perfect solution to train upto 3 dogs for a range of desirable behaviors. Dont let your dog get side-tracked by other animals or misbehave in public. Teach your canine companion how to act properly with arguably the top training collar on the market!
SUPER LONG RANGE AND MEMORY; forget other dog training collars which use cheap plastic that breaks when you drop it and are designed for small spaces and yards, our e collar dog training system is of the highest quality and has a super long 3/4 Mile range (1312 yards suitable for hunting dogs) for easy outdoor training covering the widest areas! You certainly get what you pay for with training collars and unfortunately most cheap collars wont last long!
VARIABLE SHOCK & VIBRATION LEVELS, ANTI BARK & LIGHT for NIGHT MODE; train up to 3 dogs at once (additional collars required) with up to 10 levels of continuous or momentary shock (hold down button to shock for 1 up to 8 seconds, ideal for emergencies!) vibrations, or beeps, for safe, efficient training, allowing you to teach your dog a range of commands. Sometimes it only takes one click of a button to completely change the behavior of your dog and the vibration button does the job for most!
WATERPROOF CONSTRUCTION; does your dog love to run outside or swim? Unlike cheap collars, our training system is completely waterproof (remote splash proof) and can be fully submerged without damage! Most other collars fail in the rain, we provide shock collars dogs can actually swim in all year round! Its worth noting that this collar doesnt go in to standby mode like most, meaning that its ready to use when you actually need it!
ULTRA LONG LASTING BATTERY & WARRANTY for LARGE, MEDIUM AND SMALL DOGS OVER 15LBS; our training collar is powered by a super high capacity rechargeable Li-ion battery, fully charged in 2 hours (Charge above 32 fahrenheit in the house) , for long lasting training without having to constantly change batteries! You also get a warranty included no questions asked and World Class Customer Service!
An extended range capability allows dog trainers to control up to 1312 feet distance for indoor and outdoor training and multiple channel setting.
The shock mode level comes with ten intensity levels to introduce behavior modification gradually.
Another bonus is the waterproof and durable housing to prevent damage, and the LED light makes walking your dog safer for you and your dog.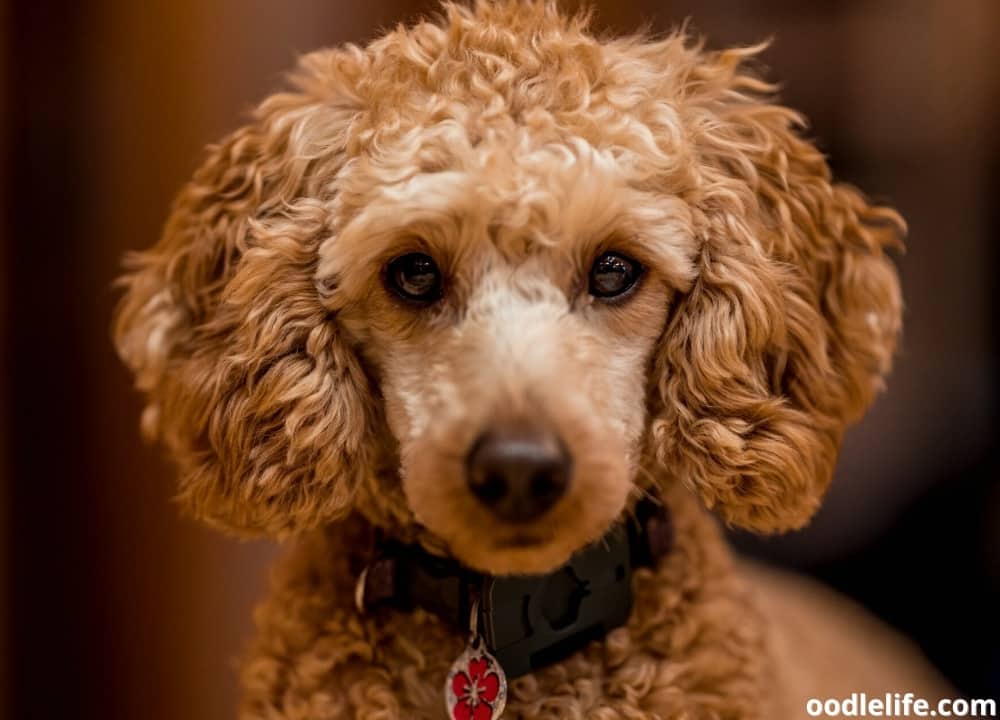 Training Levels
A good training collar will have varying levels of the stimulus that you can tune. For example, the beeps should get louder or quieter depending on the setting used. When you're just starting with a training collar, you should start on the lowest level.
As your small dog gets used to the current setting, you can increase it slightly to make the effects more severe. This always keeps your dog on its toes and prevents the collar from becoming redundant.
For example, if the collar has 100 training levels of vibration, you can start them on level one. Your dog should get used to this vibration within one or two days so that you can increase to the second level after that.
The 100 levels should last 100 to 200 days, or 3.5 to 7 months before the collar becomes redundant. This should be enough time to train the bad behavior out of your smaller dog successfully.
FAQ
Can you use a shock collar on a 5 pound dog?
Size. Many manufacturers have a weight restriction on the collars. For example, a manufacturer may recommend a dog weighing less than 8 pounds should not use their collar. A smaller dog may be unable to withstand the weight of the collar and receiver.
Can you use a shock collar on a small dog?
Whether your dog is big or small, a shock collar can be used on him or her. Success lies in consistency, and choosing the right collar with the appropriate level of intensity. Shock collars for small dogs are a safe, humane and helpful way to eliminate your dog's bad habits.
How much should a dog weigh before using a shock collar?
Pets should be at least 6 months old before using the Training Collar. Additionally, your pet should be able to recognize basic obedience commands such as "Sit" or "Stay". This collar fit's neck measurements 9.8 – 25 inches. It is suitable for dogs weighing 20 – 90 pounds.
Can you use a shock collar on a 10 pound dog?
The adjustable collar fits most dogs (10-140 pounds), and the collar is waterproof (but not the remote).