Whether your pup is chewing up your furniture, marking it, or just sitting on it depositing hair and dirt, it can be frustrating to keep him away from that favorite chair or couch. Although a Google search will reveal myriad myriad recipes for dog repellent for furniture or other belongings, not all are furniture-safe solutions.
Products to Keep Pets off Furniture
There are many kinds of pet repellent products from which to choose, but you always want to make safety a priority. One of the best sprays to keep dogs off furniture is Keep Off!, which also works for cats and lasts for 24 hours. The active ingredient is methyl nonyl ketone, an oil that occurs naturally in fruits like strawberries and bananas; it is also produced synthetically. Other sprays include Nature's Miracle Pet Block Repellent Spray and Halt! Dog Repellent Spray.
Products to keep pets off furniture also include some controversial ones. Some pet owners swear by their scat mats, which are used to deter pets from going on furniture. Life Falcon explains that some of these vinyl mats have batteries and emit electrostatic pulses that pets do not like. They can keep track of how many times the pet goes on the mat, which should decrease in time. Once the dog or cat is trained, you can stop using the mat.
If you don't like the idea of an electrostatic pulse, couch spikes for dogs can work just as well. Some scat mats have unpleasant surfaces that do not feel good against the skin. These can also keep dogs and cats off the furniture. Again, you can remove these after the training is complete.
5 Best Dog Repellent Spray For Furniture
Product Details:
Size: 8 Fl Oz (Pack of 1)
Scent: Bitter Apple
Train pesky pets with this Bitter Apple spray from Grannick.
This anti-chewing spray will help your pet learn to stop chewing on doors, furniture, rugs, or carpets. By applying this deterrent spray where your dog likes to chew or lick, you can train your pet to avoid these areas. Your dog will get used to the smell of the spray being on a particular area, causing them to lost interest.
Bitter Apple is a pet-safe, non-toxic, pet-repellent spray that deters dogs from chewing, licking, biting, and gnawing on inappropriate items such as furniture, shoes, clothing, and more. The spray is also a great training tool for teaching dogs not to bite.
This product comes in a simple to use pump spray that spreads a fine mist of the repellent across your furniture, allowing you to control exactly where it is applied.
If you're looking for the best performing dog and pet repellent spray, you can't go wrong with Grannicks.
Buying Guide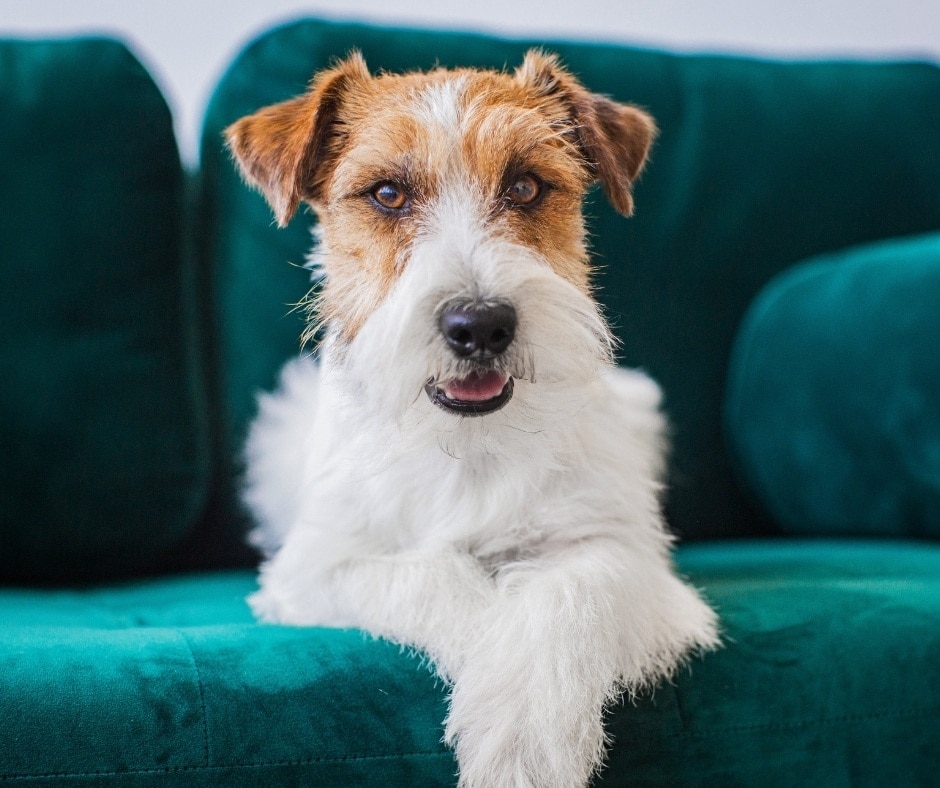 When you are looking for a dog repellent spray for furniture, you want one that is going to be able to do the job and also be safe for your dog to be around.
Look for dog repellent that is non-toxic to pets or people.
Many repellents use steroids or tea-tree oil, which can be toxic to animals. Ingestion of tea tree oil may cause gastrointestinal irritation, drooling, vomiting, diarrhea, and lethargy.
Avoid sprays with a sweet smell. The smell will attract curious pets.
Placing a heavily scented spray on your furniture may temporarily hide odors, but it can also attract pets who may chew on the furniture. When it comes to pet odors, it's better to use a strong-smelling product that won't cause harm.
Be aware of the spray's expiration date. If the product is too old, it may not work.
Check the expiry date carefully before using your spray, especially if you've owned it for a while.
Spray the repellent in places where pets usually urinate or chew instead of all over coverage.
Ensure your repellent lasts as long as possible by being selective about where you spray. Focus only on problem sites.
Check Reviews
All of the repellent sprays on this list have earned their place by being reliable and effective. Some of them even offer money-back guarantees if they don't work for you.
FAQ
Is there a spray to keep dogs off furniture?
TriNova's Off Furniture Spray is formulated with the best additives, such as rosemary, lemongrass, ginger, and geranium, to help deter cats and dogs from problem areas.
What is the best spray to keep dogs off furniture?
Our Top Choices
Rocco & Roxie Extreme Bitter Spray. 90% Success Rate. See on Amazon.
Fooey! Ultra-Bitter Training Spray. 80% Success Rate. See on Amazon.
Emmy's Best. 78% Success Rate. See on Amazon.
Grannick's Bitter Apple Spray. 76% Success Rate. See on Amazon.
Pets Are Kids Too Bitter Spray.
What smell will keep dogs away?
Keep your dog off the couch by placing a baby gate or two flat on top of furniture, pulling the cushions up so that they're vertical, placing empty laundry baskets on the cushions or stacking books near the edge of the couch.