Stylish Maltese haircuts are all the rage – what cut should YOU go for? This depends very much on whether you are a groomer or a Maltese owner doing your own grooming at home. Either way, you will want to learn how to cut Maltese hair to showcase a number of different styles.
If you already have a haircut style preference, you can jump to the relevant video below. Otherwise you could watch a few of these videos to figure out which Maltese styles you wish to perfect. Watching a professional stylist grooming a Maltese, via a YouTube video, is a very useful practice. You can re-run the video as many times as you like.
From super show-dog styles to cuts that are a little less formal, we've described 6 of the most popular Maltese hairstyles that might be required. Want to find out what they are? Read on!
1 Teddy Bear Cut For Your Maltese
Teddy bear cut is one of the most popular Maltese haircuts since it makes any dog look extra cute. The fur is cut to be about a half an inch long and the hair on the face is shaped to achieve roundness.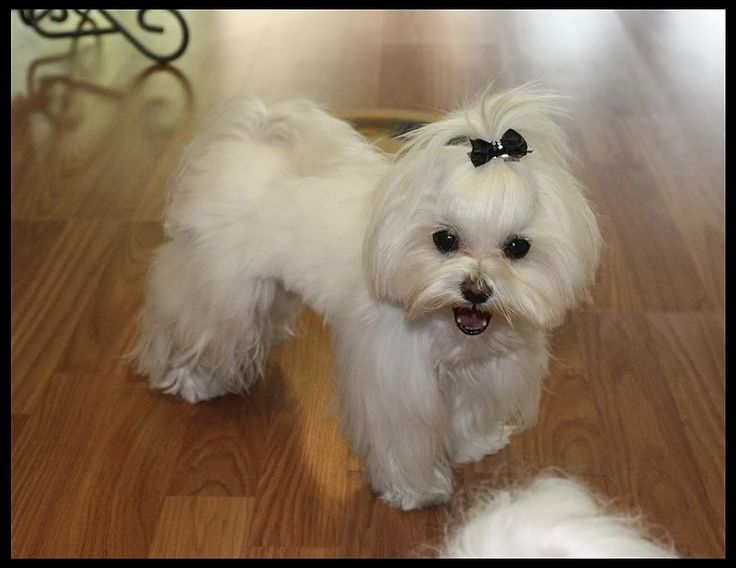 This hairstyle is similar to the teddy bear cut only the fur has to be at least one-inch long. The hair on the face is shaped for roundness but a few strands can be left long on top to make ponytails.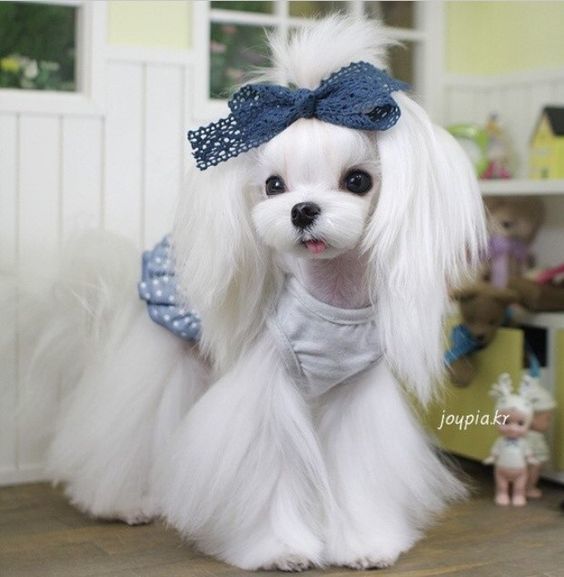 You need to be a real dog grooming guru in order to create good-looking layered cuts. While it might take some time to do, the results are truly extraordinary.
Maltese are frequent visitors at the dog shows. The Maltese haircuts for the dog show significantly differ from what you'd like to have at home. They are long and require careful daily grooming.
The tail is one of the most important parts of a dog's body. So you need to take good care of it. A lion's tale is often a part of Maltese hairstyles. It looks good and requires little maintenance.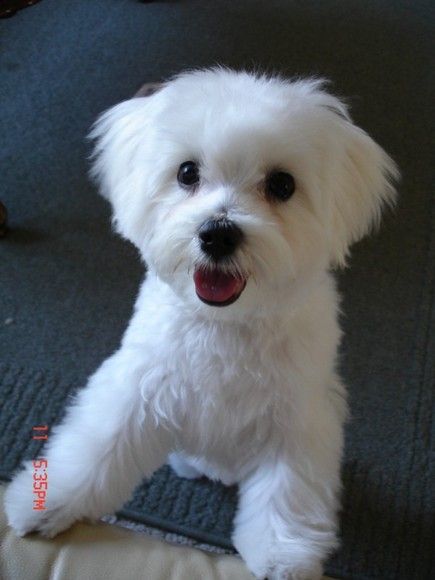 When you opt for a cut that involves leaving some of your pet's hair long, get ready to take care of the little guy's fur. Brushing your pet's hair is a must to keep it groomed and healthy. Messy looks are a no-no.
This is one of the most popular Maltese haircuts since it is easy to take care of. Most of the fur is cut short and the long hair is left on the ears and the tail. You still need to brush it on a regular basis.
Working With What's Best For Owners
Ultimately, the best hairstyle for a Maltese will be a hairstyle that the owner can maintain. If you're not sure where to start, this home DIY tutorial is a nice place to start:
How to Master Popular Maltese Haircuts
There are a number of different Maltese haircut styles that you will see but here is a description and some videos of 6 of the more popular Maltese haircuts.
The following video provides a great guide on how to prepare a Maltese for clipping and how to go about it with grooming clippers, including which size clippers to use where. The tips in the video are relevant for professional salon groomers as well as anyone doing their own coat trims at home.A Short Trim on a Maltese
The groomer makes a very good point by emphasizing the need to get all of the tangles out before starting the clipping process. I'm sure you would have already experienced how easily the coat on a Maltese can become matted.
She also makes a good point with respect to client preferences. If a client asks about short Maltese haircuts, a groomer would need to clarify, beforehand, just how short the client wants this clip to go.
It's nice to see the smooth result that the groomer easily achieves with her clippers as she follows the contours of the dog's body. She is using a number of different sized clipper comb.
You will notice that the groomer, in the video above, makes good use of a harness with her grooming table. This make much lighter work of your clipping job and makes for a much happier pooch as he feels nicely supported.
FAQ
What is the difference between a puppy cut and a teddy bear cut?
Bob Cut. This style is called The Maltese Bob because it resembles the human bob haircut. For this style, most of the fur on the dog's body is clipped short, but the hair on the ears and the tail are left longer.
Can Maltese get a teddy bear cut?
Teddy bear cuts are similar to puppy cuts in that they involve an even cut around the whole body. The only difference is that they're geared more towards curly-haired dogs like Poodles, Labradoodles, Goldendoodles, and any other -oodle you can think of!